When an item breaks, we're used to throwing it away and replacing it with a new one. This style of consumerism leads to landfills filling up quicker and resources depleting faster. Repurposing old or broken items can help break this environmentally damaging cycle, this is something you can apply to your old acoustic guitar.
When that old acoustic guitar breaks, there is no need to throw it away. Here are some of the things you can make with it:
Bookshelf
Lighting fixture
Chair/Bar stool
Table
Art piece
Clock
Planter
Key or coat hanger
Hanging jewelry holder
Dollhouse
In this article, we will give you ten suggestions for things you can do to your older acoustic guitar. We will cover everything from practical ideas to more creative design recommendations. So get your DIY supplies ready—it is time to craft!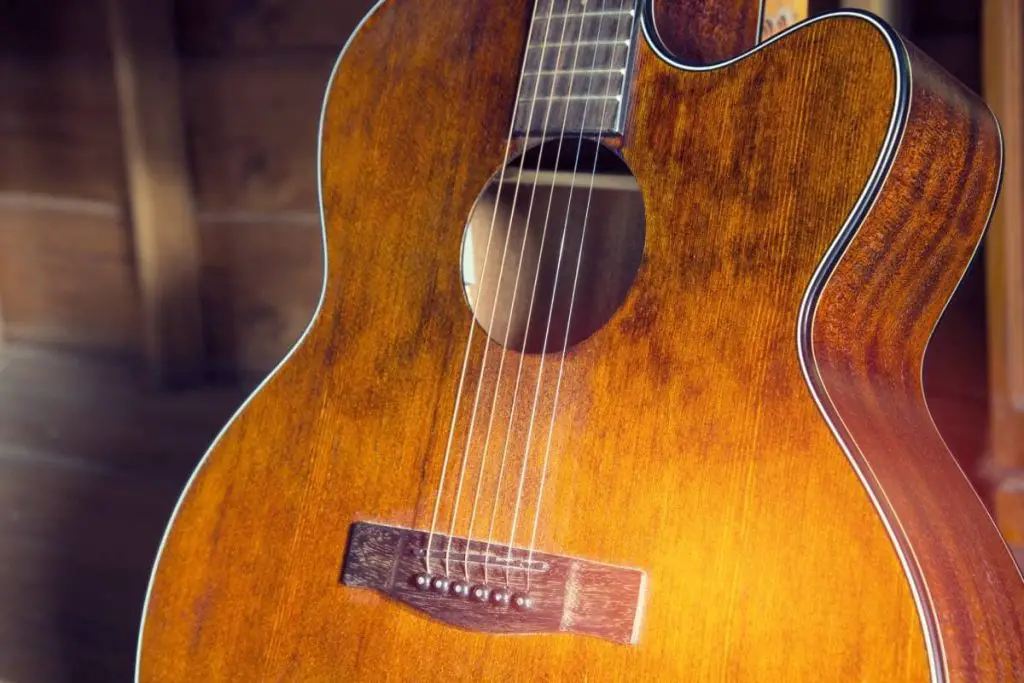 1. Bookshelf
Bookshelves are no longer just tall and box-shaped pieces of wood—they now come in various shapes and sizes. Coffins, old phone booths, old boats, and many other unconventional items are being transformed into bookshelves. So why not turn your old guitar into a bookshelf?
Depending on where you purchase one online, a guitar bookshelf can range from $145 to $200. If that price tag made you wince, all the more reason to do it yourself!
We know a guitar-shaped bookshelf might sound like an impractical shape, but it is not. The space on this shelf will be limited, but it still offers a decent amount of space to display your items.
You can display books, DVDs, CDs, your Funko Pop collection (bonus points if you collect ones of different musicians), and many more items on this shelf.
Turning a guitar into a bookshelf is also an easy project to do. All you need are some flat and thick pieces of wood to use as your shelves. If you're hanging it on the wall, you will need a guitar hook (which you probably have). You can use a guitar stand for its legs or put new legs on it for a floor bookshelf.
For an extra and noteworthy touch, you can get a custom glass cover made for it and turn it into a display case. A glass cover is a great way to keep your rock memorabilia dust-free!
A guitar-shaped bookcase also adds visual interest to a room and makes a great conversation piece for when you have guests come over. 
So if you need additional shelf space and want to spice up your home decor, this could be the option for you.
2. Lighting Fixture
If you look at most floor lamps, they are very dull in color and shape. They might add light to a room but do not add visual interest. Floor lamps tend to blend into the background of a room and go unnoticed.
A guitar floor or wall lamp adds visual interest to the room and gives you the light you need for reading, writing, and more. 
You can be simple with the lighting, putting an LED light strip in it, or you can make it more complex by turning it into an electric-powered floor or ceiling lamp.
If you choose the electrical route, we recommend hiring an electrician to help you set things up if you can't do it yourself safely. 
If you were to purchase a guitar floor, ceiling, or wall lamp, it would cost you hundreds and even thousands of dollars. DIYing it might be a bit of a hassle depending on how you choose to do it, but you will save yourself a lot of money this way.
If you need extra lighting in your room or want a more exciting light fixture, this could be your best option.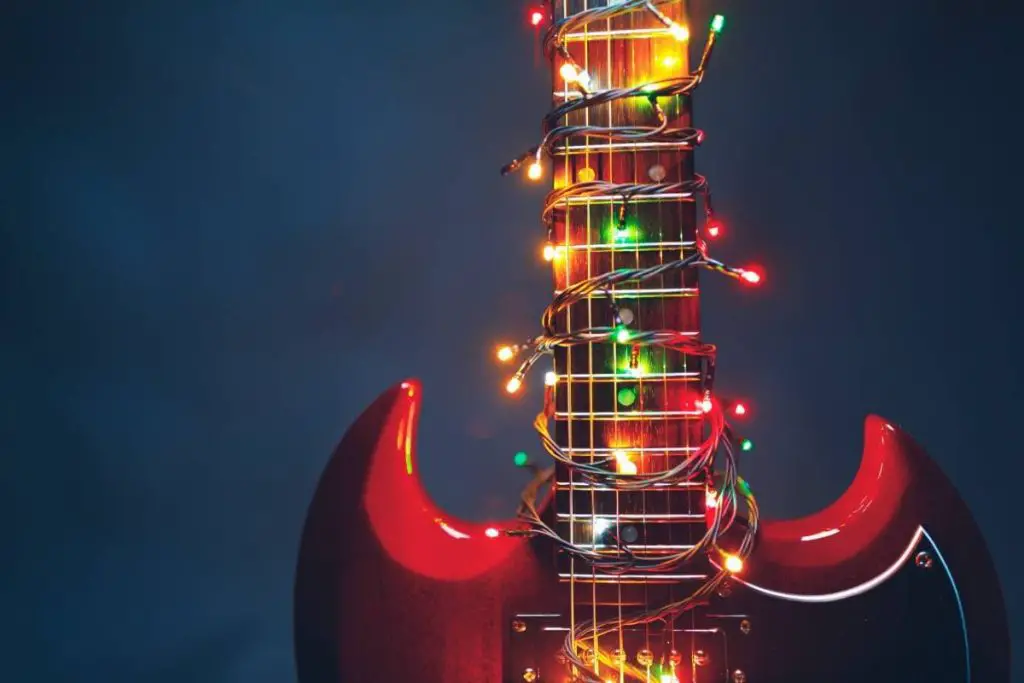 3. Chair/Bar Stool
We will be the first to admit it—a guitar-shaped chair or bar stool does not sound like the most comfortable thing to sit on. But hear me out on this one!
Some men are lucky enough to have a man cave in some part of their home. They use it to watch sports, play music, work with tools, or do other activities. Your man cave most likely has a bar of some sort, either alcoholic or dry (soda).
If you have ever been to a bar, you know bar stools are not comfortable. However, by making your own, you have complete control over how comfortable it is. You can choose whether to use the guitar body as the seat or the fretboard as the backing piece. 
However you choose to do it, you can make a unique chair for practicing your guitar skills or a quirky bar stool for drinking with friends.
4. Table
A guitar is a flat surface with decent space when laid down on its back, and turning it into a side table is an excellent way to utilize that space.
If you are wondering how to utilize the guitar hole, you can use it as a space to place your lamp without losing precious tabletop space. Some people might use it as a plant holder to ensure the plant doesn't get knocked off by their kids, pets, or clumsy spouse.
Our personal favorite use would be as a cup holder. It will ensure your cup is secure, and cannot fall over. It will also prevent you from seeing annoying water rings on the table and eliminate the need to buy coasters.
If turning your beloved acoustic guitar into a side table feels almost criminal, we have another suggestion for you!
Many glass coffee tables come with a liftable top, making them a dual-purpose table and display case. Instead of turning the guitar into a table, you can display the guitar on the coffee table. Presenting your guitar this way frees up wall space and gives it a museum-quality feel.
A table made from an old acoustic guitar can cost about $165 to $175, depending on where you purchase it. If you decide to take the DIY route, you can significantly reduce the cost by buying some table legs. Other expenses might also accrue if you do not already have the materials.
Either way you decide to do it, having a guitar table is an exciting piece with functionality and style.
5. Art Piece
If you are a guitar person, it is probably safe to bet that you have at least one guitar hanging on your wall.
If the thought of turning your old guitar into furniture feels blasphemous, we hope this suggestion feels more respectful to you. 
If your old acoustic guitar has been hanging on your wall for years and is no longer in playable condition, why not give it new life by turning it into an art piece?
Acoustic and electric guitars come in all colors and with different designs on them. Zakk Wylde from Black Label Society has his iconic bullseye Les Paul guitar. Synyster Gates from Avenged Sevenfold has his black and white pinstriped Schecter guitar. 
This DIY will not cost you a lot of money. Paint and paintbrushes are relatively inexpensive. If you already own paint and paintbrushes, then all this DIY will cost you is your time and some newspaper (so you don't get paint on your floor).
The best part about this suggestion is that there is no limit to what you can do with it. You can create any design you choose. Want to replicate Van Gogh's Starry Night on the guitar? Go for it! Want to paint a sick dragon on it? Go for it!
If the guitar is of sentimental value to you, why not ask the special people in your life to dip their hands in some paint and leave their handprints on it?
The only limit to this DIY is your imagination. So break out the paints and let your inner artist go nuts!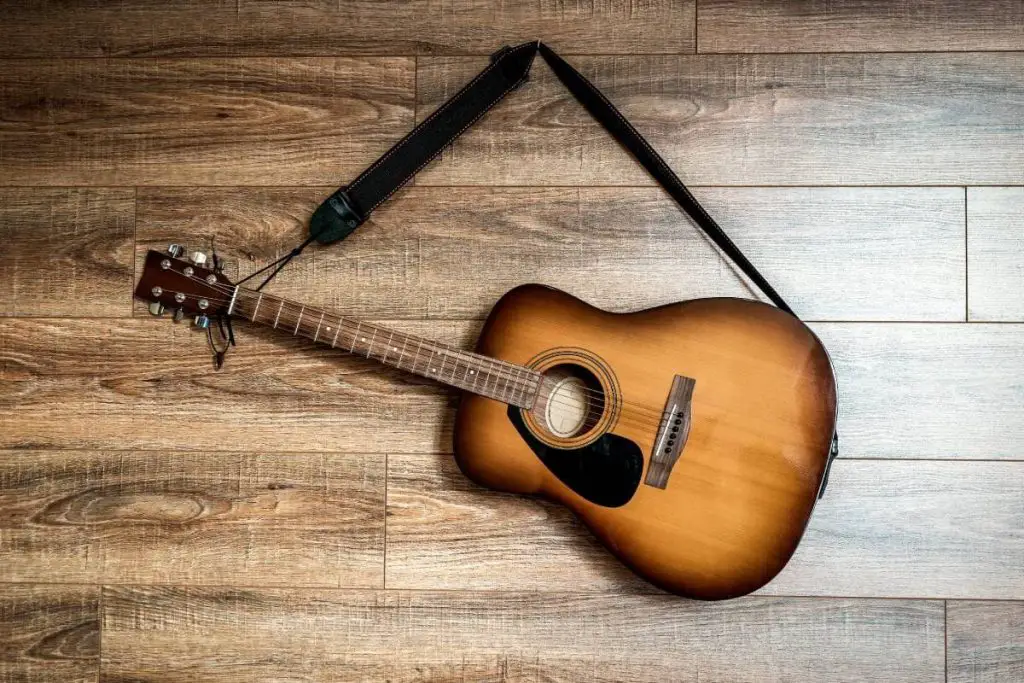 6. Clock
With everyone having a clock on their phone or around their wrist, a wall clock might seem like an obsolete item these days.
But if you have poor time management or your power goes out, a wall clock is something to appreciate.
Clocks don't have to be boring things that only tick down the minutes until we go to work or sleep—they can be functional pieces of art.
For this DIY, you can purchase a clock-making kit and turn the guitar into a clock. If you're not sure you want to go that route, you can cut a hole in the guitar and put any clock in your home inside the guitar. 
Putting a clock on the guitar is a great way to repurpose these two items and make them into something functional and fun.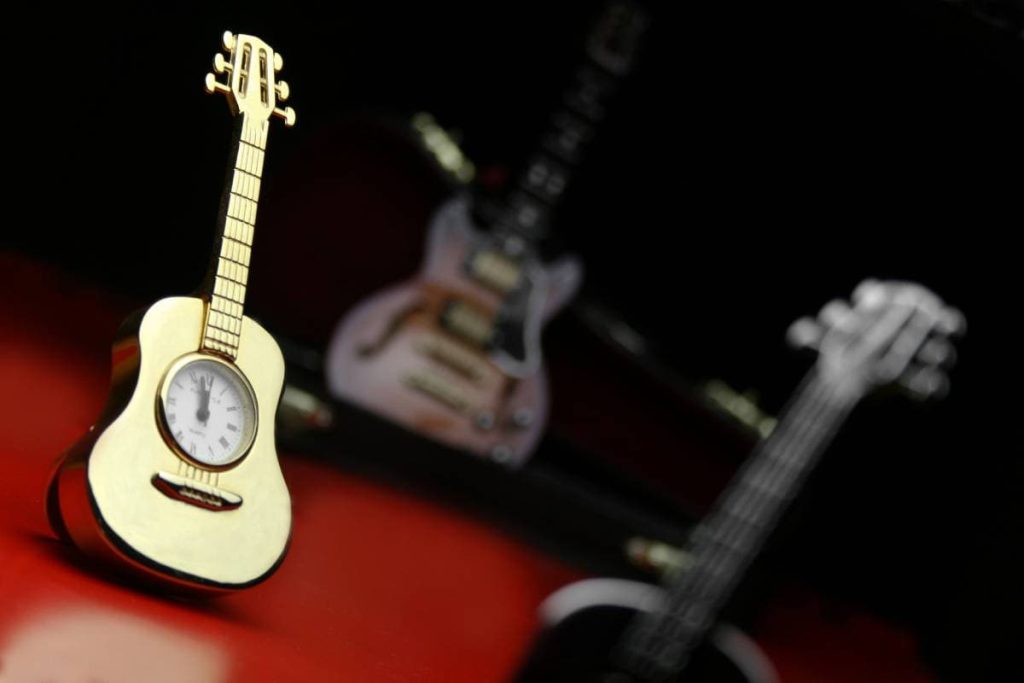 7. Planter
Over recent years, decorating with plants has become a trend that does not seem to be slowing down anytime soon. Though one can never have too many plants, one can have too many boring terracotta pots! Housing plants is an area where some creativity is a must.
We have seen people use old tires to house their plants. On sites like Etsy, you can find planters in the shape of just about anything—Bulbasaur and Oddish planters being popular choices.
So why not use your old guitar as a planter? There are several ways you can go about it. Here are a few of our suggestions:
Cut the guitar in half. By cutting the guitar in half, you can have two longer planters that will be perfect for annual flowers or growing herbs.
Hang it on the wall. Sometimes, the most desirable solution is the easiest. With this method, you hang the guitar on a wall and insert a hanging plant inside the guitar hole. For added effect, you wrap pieces of the plant around the neck of the guitar, giving it the effect of being engulfed by vines.
Tall plant stands. Similar to hanging it on the wall, this method allows you to keep the guitar whole. You can stand the guitar up and put a plant in the guitar hole. Depending on how many plants need housing, you can cut smaller holes in the guitar to house more plants.
However you choose to do it, using a guitar as a planter is an excellent way to give it new life while allowing new plant life to thrive. It's a win-win all around.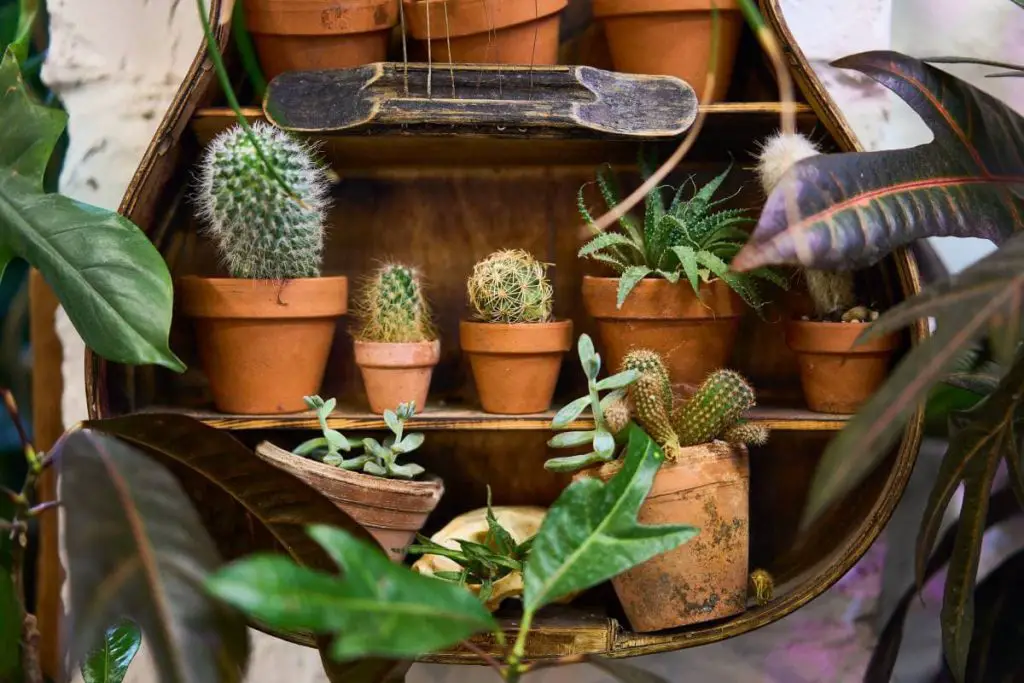 8. Key or Coat Holder
Keys are one of those items we can never find, especially when we're running late! Having a place to store them would sure make life easier. Well, this solution could be just what you need!
Turning your guitar into a key and coat holder keeps all your essential items in one spot, thus eliminating some stress from everyday life.
For this DIY, you should mount the guitar on the wall and put some nails or hooks into the fretboard. Once everything is secure, you can start putting items on it. This DIY is relatively quick and easy to do.
Place it in your front hallway or in the bedroom of your teenager who cannot seem to keep themselves organized! Your future self will appreciate you for keeping things in place when they're running late.
9. Hanging Jewelry Holder 
If you have looked at hanging jewelry holders online, you know how pricey they can be. And admittedly, they are a mixture of very gaudy or very plain. If you are someone with a shabby chic or boho vibe, this is the DIY for you.
For this DIY, you will need to remove the front of the guitar. From there, you can add command hooks inside the guitar's body so you can hang your necklaces. You can also add shelves and rods to hold other jewelry like bracelets.
This method would be the quick and easy version of making this jewelry holder. You can be much more complex with it by screwing in metal hooks, adding wire for an earring holder, and much more.
If you are worried that the front of the guitar will go to waste, you can get custom mirror shapes made and turn the front part into a mirror. Or, if you prefer, you can attach the mirror using some hinges and use it to conceal the jewelry inside of it.
You can paint this jewelry holder to match your decor or leave it as is for a more natural look. You can customize this project from start to finish to fit your needs, which makes it better than buying a premade jewelry organizer.
10. Dollhouse
Out of all of our suggestions, this one is probably the most unique. If you have ever looked at the price of wooden dollhouses, you know they can cost hundreds or even thousands of dollars. Accessories are included in that pricing, as you will need many of them.
While the look of a giant old dollhouse can be nice, they take up a lot of space, and most of them are not meant for playing. 
A guitar dollhouse will not take up much room and is meant for playing. Depending on how you structure it, you can create multiple rooms to encourage play and creativity (we recommend a music room for obvious reasons).
If you are on a fixed income or tight on space but still want to give your little one a fun gift, this could be the perfect project to try.
Bonus Suggestion: Making Jewelry With the Strings and Picks
So you have figured out how to repurpose the old acoustic guitar, but now you are left with the guitar strings and some guitar picks.
If you are an avid guitar player, you most likely will use these items on other guitars, which is the easiest way to repurpose them. 
However, if you only have this one guitar and make no plans to purchase a new one, repurposing these items will take some ingenuity.
You can use both the strings and guitar picks to make wire jewelry. The string can be used as the wire, and the guitar pick can be left as is. Just punch a hole through it, put a pendant loop through the hole, and you have a charm!
You can use them simultaneously or separately, but we dig the idea of using them together. Add beads for a more colorful and unique piece or leave it metallic—the choice is yours!
Jewelry making is a fun and unique way to repurpose items that you might have otherwise thrown out. Jewelry is also a great gift, so if an anniversary, birthday, or a random Tuesday sneaks up on you, this could be a perfect choice.