While dust by itself doesn't necessarily hurt the performance of a guitar, excessive dirt and grime are unsanitary and can lead to rust, which will eventually affect the tone of your guitar pickups. Therefore, taking good care of your guitar often includes doing your best to prevent dust buildup.
Here are four ways to keep your guitar from getting dusty:
Clean and polish your guitar regularly.
Keep your guitar in a high-quality case.
Cover your guitar with a dust cover.
Wipe your guitar down every time you play.
In the rest of this article, I'll take you through these four simple yet effective ways of keeping your guitar from getting dusty. Let's get started!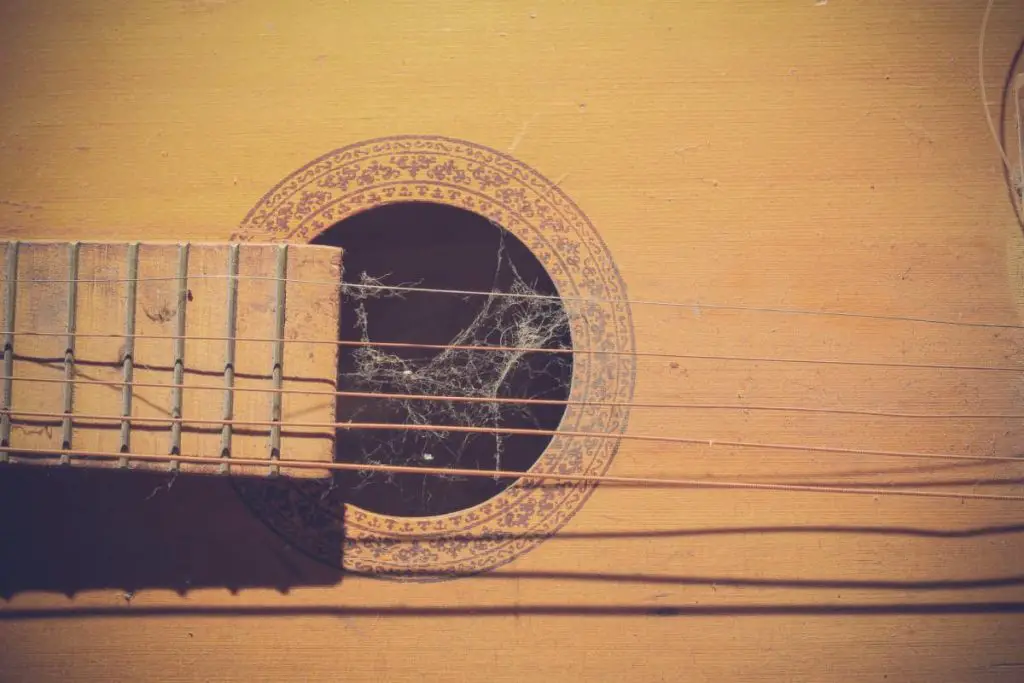 1. Clean and Polish Your Guitar Regularly
One of the best ways to keep your guitar in good condition and prevent excessive dust buildup is to clean it regularly and to use a high-quality guitar polish. Not only does a polish get rid of dust, but it also eliminates grime and fingerprints while helping your guitar look new again.
Here are some of my recommendations for the best guitar polishes and guitar care kits on the market. All links are to Amazon.com:
How To Clean Your Guitar
You must clean your guitar properly to ensure that dust doesn't build up and to ensure that you don't cause any damage. You especially have to take caution with old or vintage guitars, as they are more delicate and breakable. Here is the best way to clean your guitar:
Acquire the proper materials. If you purchase one of the above cleaning kits, you'll have everything that you need. If you don't have a complete kit, you'll need a microfiber cloth, guitar or glass cleaner, and guitar polish. Ensure none of the products you use include silicone or bleach, as these substances can damage a guitar, especially if it is particularly old.
Remove your strings. Your cleaning products could damage your guitar strings, so be sure to take them off before you start the cleaning process.
Use a cloth and cleaner to wipe the fretboard and the neck. This part of the guitar can pick up dust and natural oils from your fingers. Use your microfiber cloth to wipe away the grime gently.
Use a different cloth and cleaner on the guitar's body. Apply cleaner to the cloth and wipe down the guitar's front, back, and sides in circular motions.
Clean the tuning keys. The tuning keys can easily gather dust, so make sure you don't forget to wipe them down.
If you use an electric guitar, use polish on the pickups. Pickups can quickly get dusty and rusty, so it is important to keep them clean. You can unscrew the pickups using an Allen wrench and wipe away all the grime.
Polish your guitar. Using polish is a great way to prevent dust buildup, but too much of the stuff can build up and influence the guitar's sound. You shouldn't use polish on vintage guitars because they have unique finishes that could be irreversibly damaged by polish.
I recommend the Amazon Basics Microfiber Cleaning Cloths  (available on Amazon.com) if you need a microfiber cloth. I especially like these because they are non-abrasive, so they won't scratch the surface of your guitar. They can also be rinsed and reused hundreds of times so you won't waste money on constantly repurchasing cloths.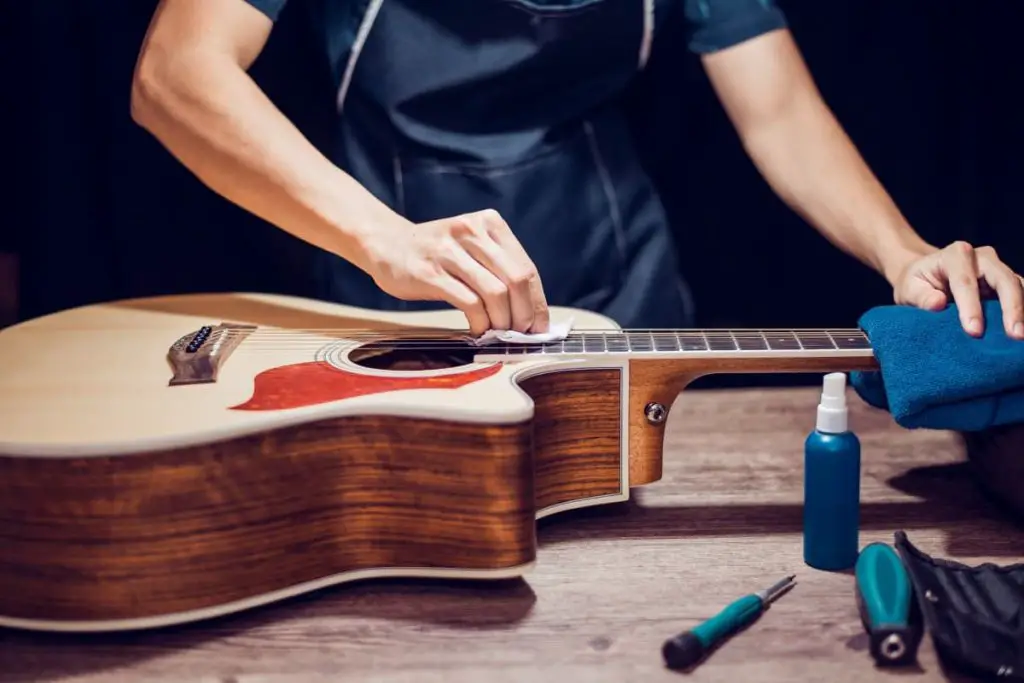 Alternatively, you could use these Hricane Guitar Cloths (available on Amazon.com). These cloths easily pick up dust, dirt, and fingerprints, and the continuous fibers are lint-free and ultrasoft to prevent damage to your guitar. Finally, you can use these cloths on various instruments, including the violin, piano, clarinet, trumpet, and saxophone.
If you regularly clean your guitar, you won't give dust the chance to build up. Furthermore, you'll keep your guitar looking brand-new and have a more sanitary playing experience.
2. Keep Your Guitar in a High-Quality Case 
Another effective way to keep your guitar from getting dusty is to keep it in a high-quality case when you're not using it. As tempting as it may be to keep your beautiful guitar on display for all to see, this exposes the guitar to all elements, including dust.
Guitar cases are hard cases with some sort of foam or plush material on the inside that helps ensure the safety of your guitar. Alternatively, you can use a gig bag made of durable fabric and foam. Gig bags will also help prevent your guitar from getting too dusty, but they aren't as protective as hardshell cases.
Hard cases are more effective in preventing dust buildup. Additionally, they are better for people who frequently travel, whether it's by plane, bus, or van. Guitars can easily get damaged during transport, and hard cases are your best bet at preventing this type of damage.
Gig bags are easier to move around because they are more lightweight and can be carried like a backpack. These bags are also more affordable than hard cases, so if you're on a tight budget, a gig bag may be the better option for you.
Hard cases help maintain a consistent humidity level and keep dust away from your guitar. This prevents cracks and warping.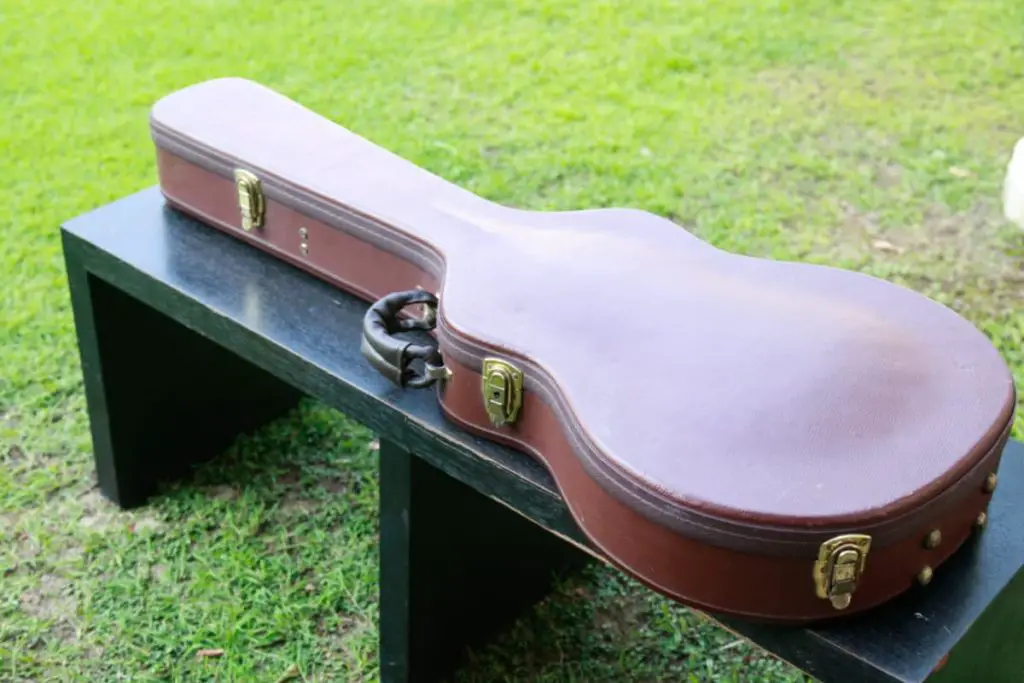 To purchase the right case, you'll need to know the shape of your guitar. There are four categories:
Telecaster or Stratocaster. Although these guitars produce different sounds, they have the same shape and include Fender, Yamaha, Super Strat, Jackson, and other variants.
Les Paul. These guitars have thick bodies, short necks, and angled headstocks. Therefore, guitars with this shape need a case that is specific to them.
Offset. Offset guitars have asymmetrical bottoms and tops. Explorers, Firebirds, and Jaguars have this shape.
Semi-hollow Body or Hollow Body. Grestch, Sheraton, and Dot sell guitars with these shapes. Typically, large gig bags or cases will fit this shape.
Here are some recommendations for the best guitar cases to protect your guitar from dust buildup. All links are to Amazon.com:
Here are my suggestions for gig bags:
One of the best ways to keep your guitar from getting dusty is to keep it stored away in a snug and high-quality case so it isn't exposed to the dust particles in the air. The above are some of the best guitar cases you can get your hands on.
3. Cover Your Guitar With a Dust Cover
If you don't want to put your guitar in its case or gig bag every time you're done playing, you can prevent dust by covering it with a dust cover instead. This is quicker and easier than putting your guitar in a case every time, and it is still effective in preventing your guitar from getting too dusty.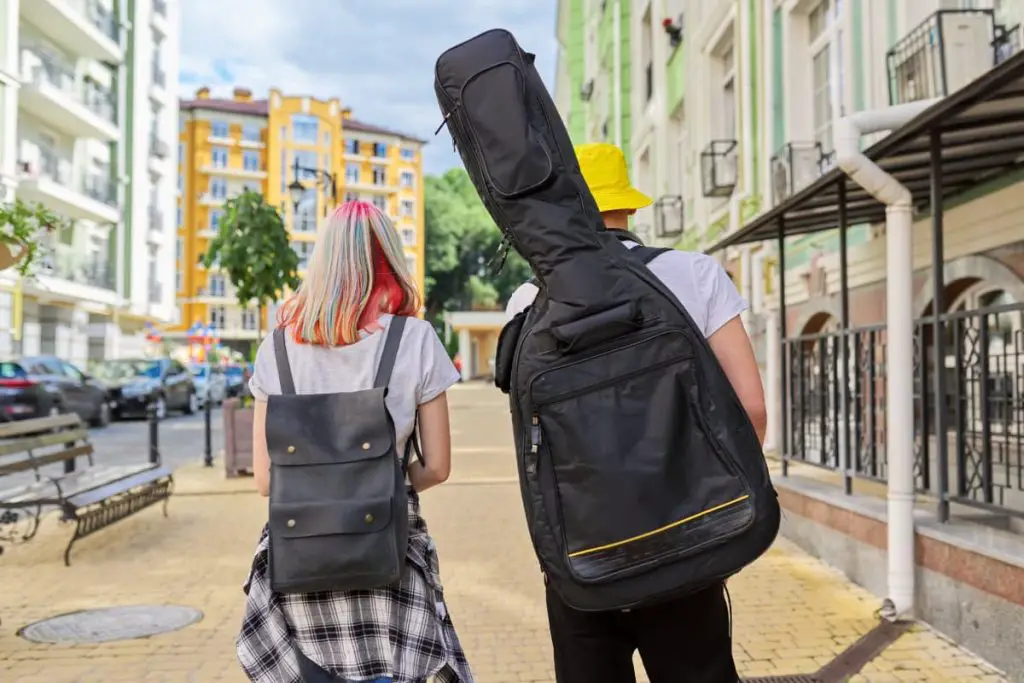 Another benefit to using a dust cover instead of a case is that many covers are big enough to cover a variety of guitar shapes and sizes, so you don't need to worry about buying a specific type.
Here are my recommendations for the best dust covers for your guitar. All links are to Amazon:
Dust covers are a quick and convenient way to protect your guitar from dust particles. Additionally, they are a more affordable solution than buying an expensive guitar case.
4. Wipe Your Guitar Down Every Time You Play
One of the best ways to prevent dust is to be proactive. If you simply wipe your guitar with a microfiber cloth every time you pick it up to play, you'll prevent the guitar from getting too dusty in the first place. You'll also prevent too much grime buildup from the natural oils on your fingers and other elements in the air.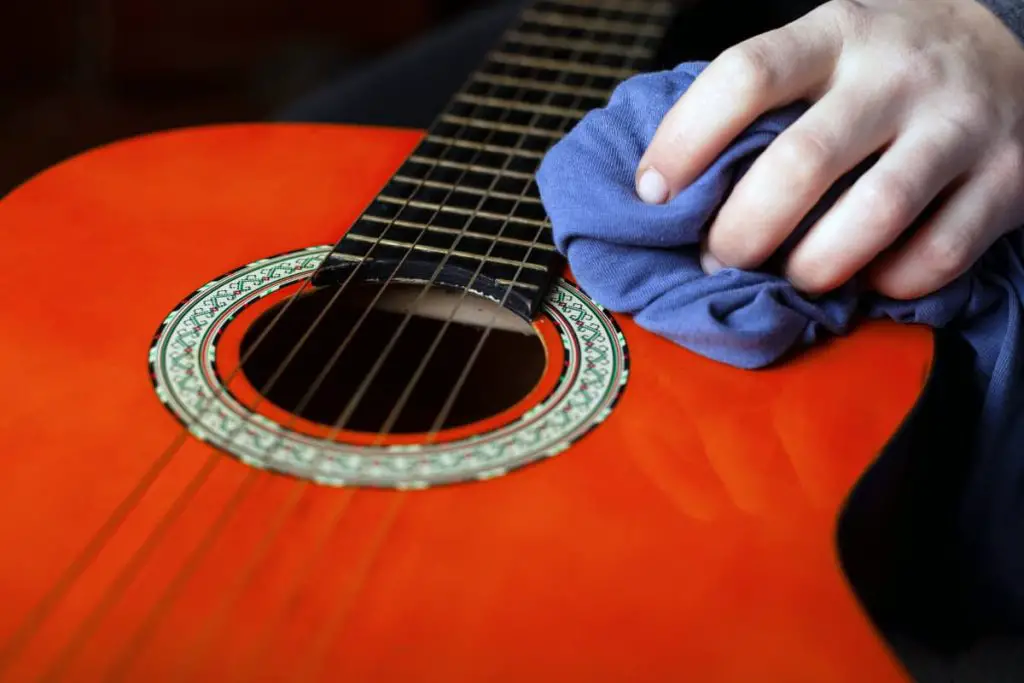 Just ensure that whatever cloth that you use is lint-free. Otherwise, you'll have to deal with so many annoying balls of lint on your guitar.
It may seem like a hassle to wipe your guitar down every time, but this is far better than allowing the dust and grime to build up on your instrument. Furthermore, if you get into the habit, it won't feel like such a chore after some time.