Many people believe that an amplifier is necessary to play an electric guitar. While having an amplifier is useful and preferred by many guitarists, it's not absolutely essential, especially if you're simply testing the guitar. You can use a few methods to test a guitar without an amp.  
Here are a few great ways you can test your electric guitar without an amp: 
Use a PC or a Mac with headphones or speakers. 
Plug the guitar into a home stereo. 
Use guitar headphone amplifiers. 
Play through your smartphone or tablet. 
Play using a multi-effects pedal. 
Use a digital audio workstation (DAW). 
Let's take a closer look at each of these methods in detail so you're prepared to test an electric guitar without an amplifier.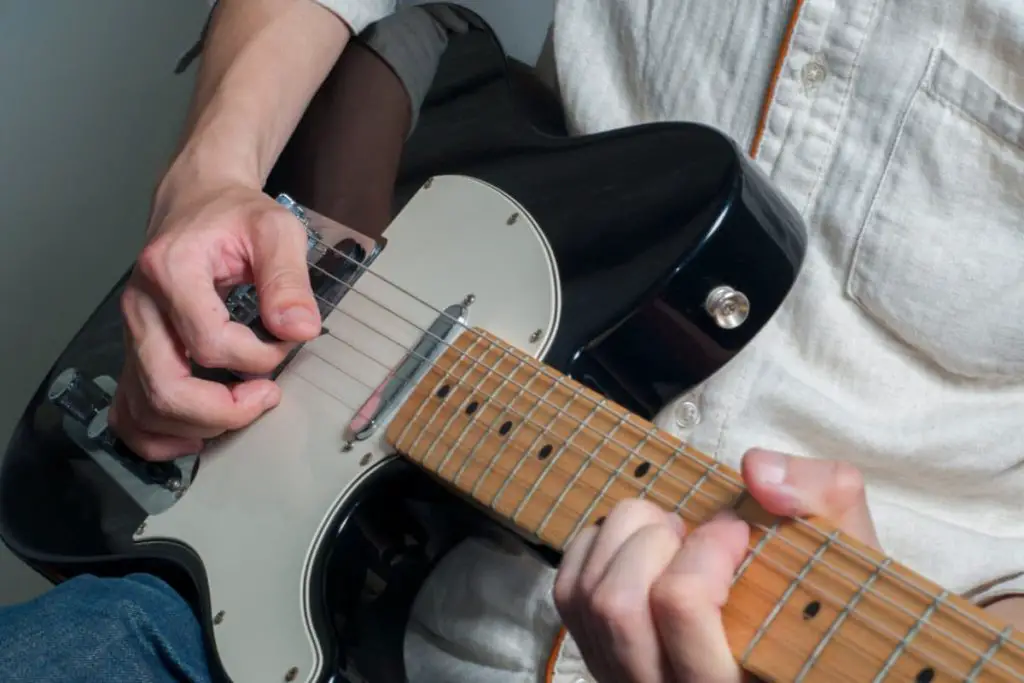 1. Use a PC or a Mac With Headphones or Speakers
You can play an electric guitar through a PC or Mac computer or laptop with headphones or speakers. If your computer has speakers that work relatively well, you'll get a good idea of what the guitar sounds like by connecting it to your computer. 
To do this, you'll need a guitar cord. I recommend the Elebase ¼ Inch TRS Instrument Cable from Amazon.com. I like that these cables come in a two-pack, so you get a better bang for your buck and that they're made with an ultra-durable design that ensures their longevity. The product also comes with a twelve-month warranty, so you can make the purchase worry-free. 
Once you have the cord, you can use it to connect the guitar interface with your computer speakers. Then, power up the interface. Now, your computer speakers can act as amplifiers, and you can test the guitar.
For the best results, start with the volume on low and gradually increase it as you play. This helps prevent any damage to your audio equipment.
For this method to work, you'll need an audio interface. These devices are great tools for musicians, as they allow you to get audio signals to your computer and record, in addition to testing guitars when you don't have an amplifier. The device changes the electrical signal from the guitar to a digital signal, processes it, and then returns it to analog to send through headphones or speakers. 
The following table outlines my top choices for audio interfaces. All links are to Amazon: 
| | | |
| --- | --- | --- |
| Product | Pros  | Cons  |
| IK Multimedia AXE I/O SOLO Portable USB Audio Interface  | Compatible with Mac and PC.Includes specialized guitar inputs. Can be used for passive or active pickups. Variable input impedance.Capable of resolution up to 24-bit/192kHz MIDI inputs and outputs.  | The tuner is unreliable.Some Windows users find difficulty getting the audio interface to work properly. On the expensive side.  |
| Native Instruments Komplete Audio 2 Two-Channel Audio Interface | Compatible with Mac and PC. Small and lightweight, it only weighs 380g.Users can use individual selector switches to go between a microphone and a guitar. Simple to use because of the main out level and five-point level display.Comes in a package including a synth, phaser, compressor, Replika delay, and Ableton Live 10 Lite. Affordable. | Direct monitoring can only be done through headphones, not through the main output. Some users have difficulty accessing the included software.Can't switch between monitoring outputs ½-¾. Some Windows users have difficulty with the software.  Some users don't receive prompt responses from the Native Instruments support ticket form. |
| Audient iD4 MKII USB-C Audio Interface | Compatible with Mac and PC.Simple and easy to use; great for beginners. Features a smart scroll wheel for tweaking settings within the software. Two monitor speaker outputs. Dual headphone outlets. Affordable.   | No MIDI inputs or outputs. Doesn't have an on/off switch.Accompanying software is difficult to use.  Volume knob is fully digital.  |
| Focusrite Scarlett 4i4 3rd Gen USB Audio Interface | Compatible with Mac and PC. Highest-selling interface in the world. Known for reliability and quality. Updated every year.Two XLR-¼" combo inputs. Two ¼" line inputs. Versatile. Great-sounding mic pre-amp. Simple design.   | Relies on software.  |
You can easily test an electric guitar without an amplifier with the right audio interface and guitar cord. 
2. Plug the Guitar Into a Home Stereo
If you have a home stereo with auxiliary input, you can use it in place of an amplifier to test a guitar. All you need is a female ¼" to male RCA adapter, which will allow you to plug the guitar's cable into your home stereo and use the speakers. Be careful not to play too loud, as this will damage your speakers.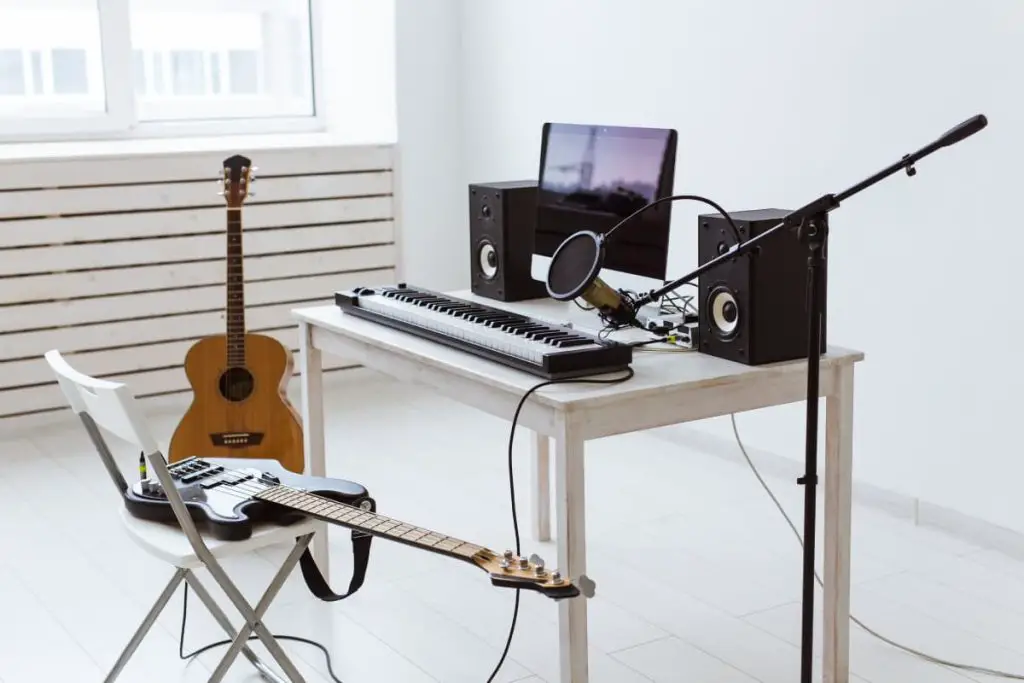 You can also use a boom box as long as it has an auxiliary input and you have an adapter that is compatible with it. 
I recommend the VCE RCA to ¼" Audio Adapter 6 Pack from Amazon if you need an adapter. These adapters are useful in various ways, as they are compatible with home theaters, cameras, headphones, speakers, tablets, and instruments, so you can use them in many ways. I also like the small design, which makes them easy to carry around and use. 
If you don't already have a home stereo system but want one, the PHILIPS FX10 Bluetooth Stereo System for Home from Amazon.com is a great choice. You can use this home stereo system to test an electric guitar, and you can enjoy the dual amplifier, MAX sound technology, and the ability to stream music wirelessly via Bluetooth. 
3. Use Guitar Headphone Amplifiers
A convenient and easy way to mimic the sound of an amplifier without having the actual amp on hand is to use guitar headphone amplifiers. You can plug these headphones into the guitar's input jack and use them to listen and test the sound. You can also use guitar headphone amplifiers with home stereos, combining the above method with this one to test the guitar. 
Guitar headphones have different effects, such as delay and reverb, that can help you understand the guitar's complete potential and mimic what it might be like to play it once you have access to an amp. However, there are some drawbacks to using guitar headphone amplifiers, including the following: 
Many are easily breakable. 
Some can only be powered by batteries, and if you run out of batteries, you're out of luck. 
There may be a slight delay between the strumming of the string and the sound.  
Some don't have a great tone. 
Here are my selections for the best guitar headphone amplifiers. All links are to Amazon: 
| | | |
| --- | --- | --- |
| Product  | Pros  | Cons  |
| Fender Mustang Micro Headphone Amplifier | Features an array of usable tones. Usable for various genres. Has reverb, delays, and Vibratone. Uses colored LEDs on the side of the unit to mark settings. Allows you to adjust effect parameters. Pairs with mobile devices or computers via Bluetooth.Rotating input plug makes it compatible with many instruments. | Works best on Fender guitars, but may not be compatible with some other brands. Made with fragile material.  |
| Boss Waza-Air Wireless Guitar Headphone Amp | The amp is built directly into the headphones. Five realistic amplifier models. Fifty customizable effects with the Boss Tone Studio App. Integrated gyro sensor. Easy to use. Accessible buttons. No cables required.  | Some users may not like having the amp directly in the headphones. Requires download of the Boss Tone Studio app. Expensive.  |
| Blackstar amPlug2 FLY Guitar Headphone Amplifier | Three rotary controls. On/off button. Warm and deep tone. Powerful distortion. without sounding tinny ISF control allows the ability to switch from American to British tone. Great with high gain. Affordable. | Breaks easily.  |
| Electro-Harmonix Headphone Amp | No fuss. Clean tone that can handle fuzz, reverbs, and delays. Comes with a belt clip.Durable. Can be used for guitar and bass.  | Requires an additional cable.No effects.  |
Guitar headphone amplifiers are great stand-ins for larger amps and can be used to test an electric guitar. 
4. Play Through Your Smartphone or Tablet
If you have a digital guitar interface (see my recommendations above) and a smartphone, you can use these tools to test an electric guitar. The apps available allow you to test a guitar with various tonal choices and sound profiles. Still, because the analog signal is processed twice, you'll likely experience a delay between playing the string and hearing the sound.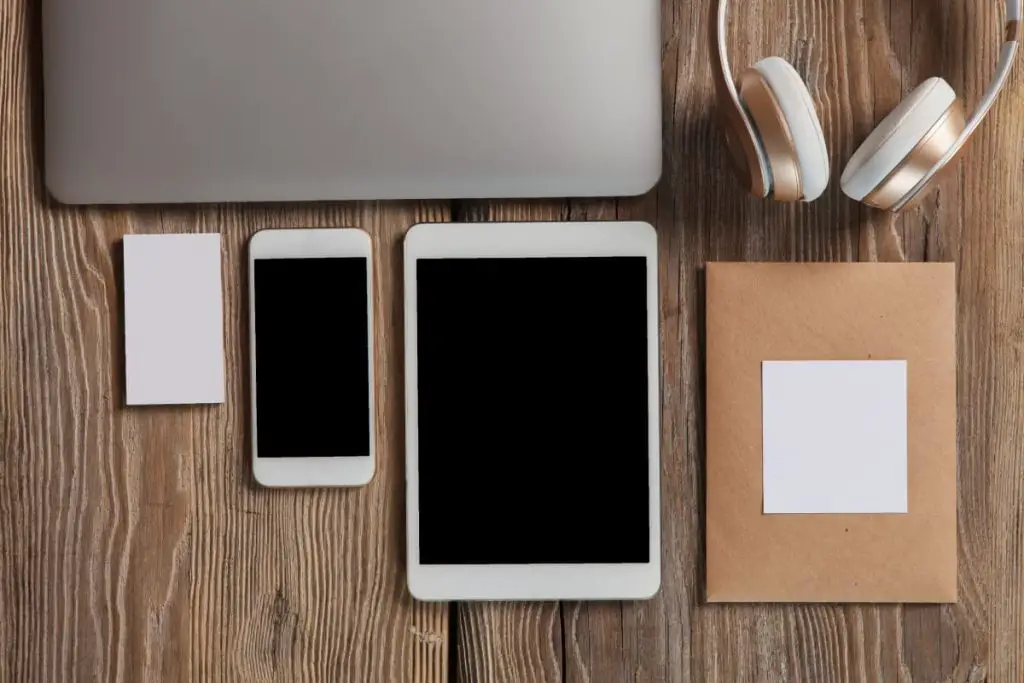 Additionally, the USB interface and the smartphone connection may be unstable, and even the slightest movement of a cable can cause an interruption. This can be extremely frustrating, as most people move at least a little while playing the electric guitar. 
However, even with these downsides, this is a budget-friendly and effective way to test an electric guitar without an amp. Here are my recommendations for amp simulator apps: 
Guitar Effects & Amps-Deplike. This app, available for Android and Apple, has many free built-in amps and effects, but you can also pay extra for more options. The app also has an audio driver that helps lessen the latency issues many Android users experience. 
AmpliTube CS. This app is also available for Android and Apple, but it works better on Apple devices. It allows you to use different virtual amps and pedals to create guitar rigs. 
Mobile POD. This app is only available for iOS, and no free option is available. However, the simplistic design and the ease of use make it a great option for an amp simulator app. 
You may not get the best sound using this method, which might not work for serious guitar players long-term, but it is an effective way to test a guitar and will get the job done.  
5. Play Using a Multi-Effects Processor
Some multi-effects processors have jacks that allow you to plug in speakers or headphones, which means you can plug your guitar and the headphones into the processor to test a guitar without an amp. One benefit of this method is that there is rarely any delay or latency issue because the systems were designed to work together. 
Multi-effects processors are designed with unique sounds, so you should find one that suits your taste and the kind of music you play. Then, you can use it to test electric guitars and make amazing music. 
A downside to this method is that most high-quality multi-effects pedals are quite expensive, so this isn't the most affordable way to test an electric guitar if you don't already have one. However, if you want to become a serious guitar player and have the ability to create your own unique sound, then a multi-effect pedal is a must.  
The following table outlines my recommendations for the best multi-effects pedals. All links are to Amazon: 
| | | |
| --- | --- | --- |
| Product  | Pros  | Cons  |
| Line 6 POD Go Guitar Multi-Effects Pedal, Black | 104 effects. 10 assignable footswitches. 8 assignable patches on the front panel. Tuner and tap switches. Great user interface.  | Expensive. May be complicated for beginners.  |
| Boss GX-100 Guitar Effects Processor | Easy-to-use touchscreen. Beginner-friendly. 154 effects. Compact and easily transportable.  | 23 amp models may not be enough for some guitarists. Expensive.  |
| Line 6 HX Effects Multi Pedal, Black | 104 effects.Stripped-back, light-based interface is aesthetically pleasing. Has standard delays, mods, and reverbs.Compact. | Only has 6 assignable footswitches. Doesn't have a screen. |
| HeadRush Gigboard | Quad-core DSP. system with DSP software. Authentic amp, cab, mic, and FX models. High-resolution display that is easy to use. USB connectivity. Hands-free mode.Setlist feature. Assignable LED strips.  | Touch display is finicky. Doesn't have as many effects as other options.  |
The right pedal can transform your guitar playing and give you the power to create a sound that is unique to you. Additionally, you can use it to test an electric guitar without an amplifier. Overall, it is a great tool for any electric guitar player. 
6. Use a Digital Audio Workstation (DAW)
If you're seeking to play guitar and record your music professionally, you'll benefit from having a digital audio workstation (DAW). These systems are similar to digital guitar audio interfaces but are more versatile and usually of higher quality. They can also be used to test electric guitars without an amplifier and any latency issues.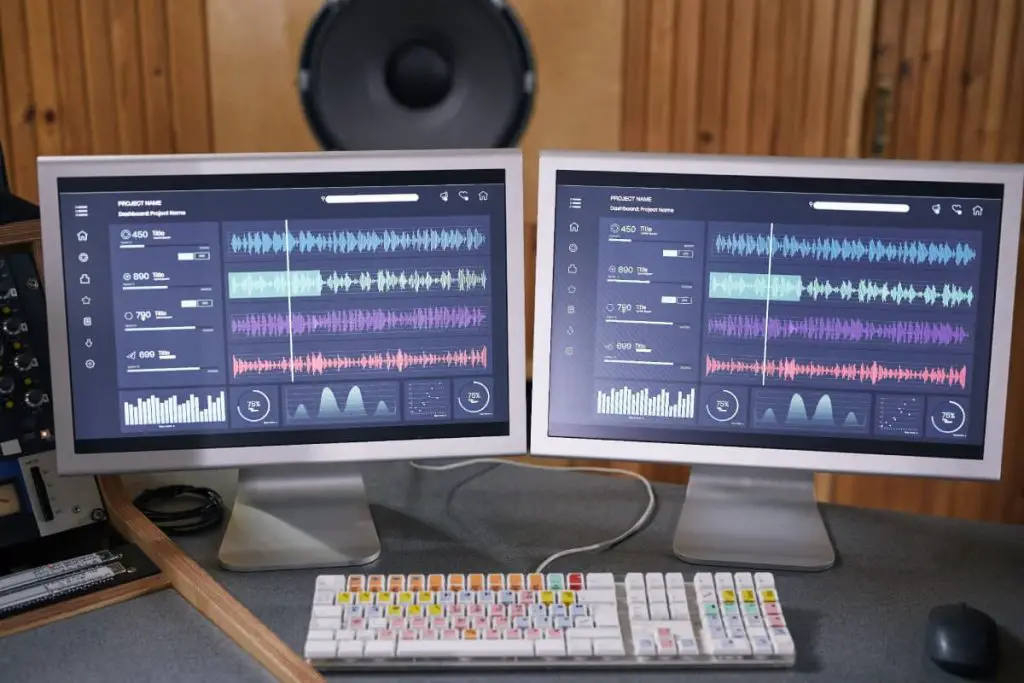 DAWs are not cheap, so if you're only going to be using them to replace an amplifier, I would recommend looking at the other methods on this list first for a more affordable and simple solution. However, there are many advantages to owning and using a DAW, including: 
Ability to cut and paste audio.
Access to virtual instruments. 
Access to virtual studio technologies. 
Reverb use. 
Use of autotune.
Ability to remix or remaster songs. 
The following table outlines some of the most popular DAWs and the pros and cons of each:
| | | |
| --- | --- | --- |
| DAW  | Pros  | Cons  |
| Ableton Live  | Compatible with Mac and PC. Intro, Standard, and Suite versions.Many high-quality built-in devices. Fast workflow.  | Might be overwhelming for beginners.  |
| Apple Logic Pro  | Access to a variety of producer samples. Great value. Ableton-style loops. Step sequencer.  | Only available on Mac.Requires update to MacOS 11.Only one version (standard).  |
| PreSonus Studio One  | Compatible with Mac and PC. Prime, Artist, and Professional versions. Fully developed score editor. Good for beginners and professionals. Responsive and modern interface. Smooth workflow.  | Interface is busy and overwhelming.  |
| Reason Studios Reason  | Compatible with PC and Mac. Intro, Standard, and Suite versions. Powerful and flexible combinator. Hi-res graphics.SSL-modeled mixer.  | Design is hardware-esque and unusual for some, may take some getting used to.  |
With the right DAW, you can make incredible music and test any electric guitars you need. 
Why Do Electric Guitar Players Use Amps? 
After reading this list, you may wonder why anyone uses amps to test electric guitars if there are many alternatives. While these are good options for testing a guitar, they aren't the best way to play long-term. There are many advantages to having an amplifier.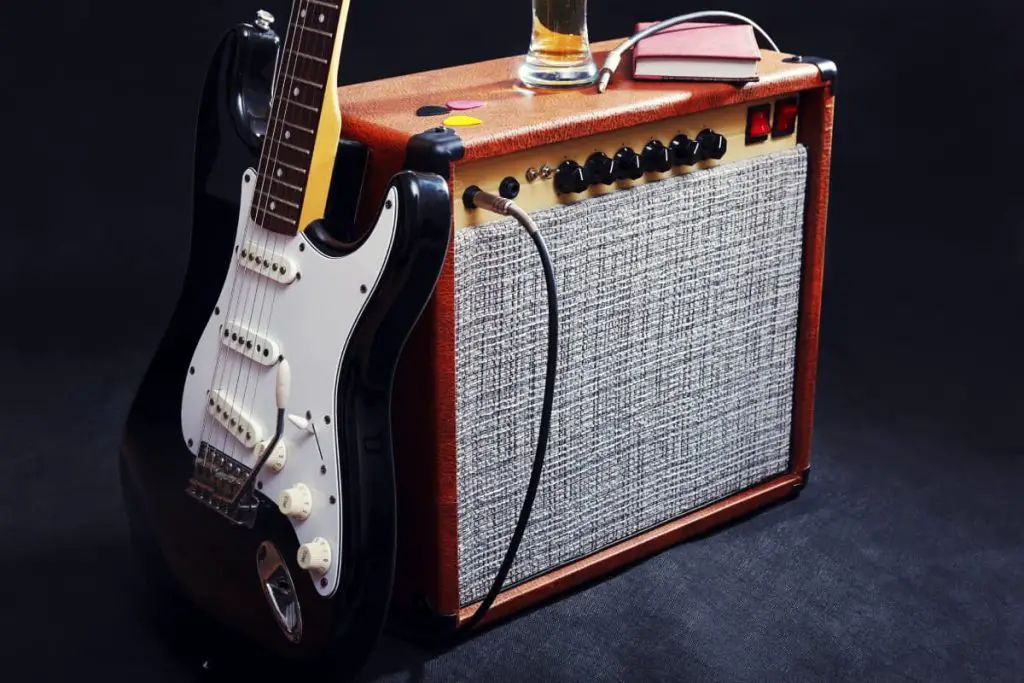 Unlike acoustic guitars, electric guitars don't have a hole in their body, so they can't rely on vibrations and echoes to be heard. Instead, electric guitars use electromagnetic induction, which generates electrical signals. 
The electric charge that is made by the pickups above the strings of an electric guitar goes through the internal circuit, into the output jack, and an amp if one is plugged in. An amp converts this electric charge into sound waves. 
In short, amps do far more than increase volume. They also allow guitarists to control their tone and adjust the bass, mid, and treble. Therefore, when testing an electric guitar, one might want to use the amp that they'll use when playing a gig or for a crowd so they can hear what the guitar will sound like when they use it for this purpose. 
However, if you don't have access to an amplifier, the above methods are still great ways to test a guitar and get a solid idea of what it sounds like and could sound like on stage.  
Conclusion 
There may be times when you'll need to test a guitar, but you don't have access to an amplifier. This may seem like a problem at first, but luckily, there are ways that you can play the guitar without one. If you use one of the methods above, you can get a good idea of how a guitar sounds and its tone without needing an amp.