When practicing on your guitar, it is common to sit on a chair or even your coach, but when playing in front of a crowd or even jamming out with your friends, most of us stand and play. It just sounds better and is way more comfortable. There might be one problem, though, and that is keeping your guitar strap from falling off.
To prevent your guitar strap from falling off, you can use strap locks to keep it in place. You can also create your own locks using guitar picks, bread bag tags, and rubber washers. For a strap that is slipping off your shoulder, you can use a thicker strap or Guitar Gummy to keep it in place.
In this article, I will discuss eight ways to keep your guitar strap from falling off. So whether you are battling with your guitar strap coming loose from your guitar or slipping off your shoulder, I have a solution for you!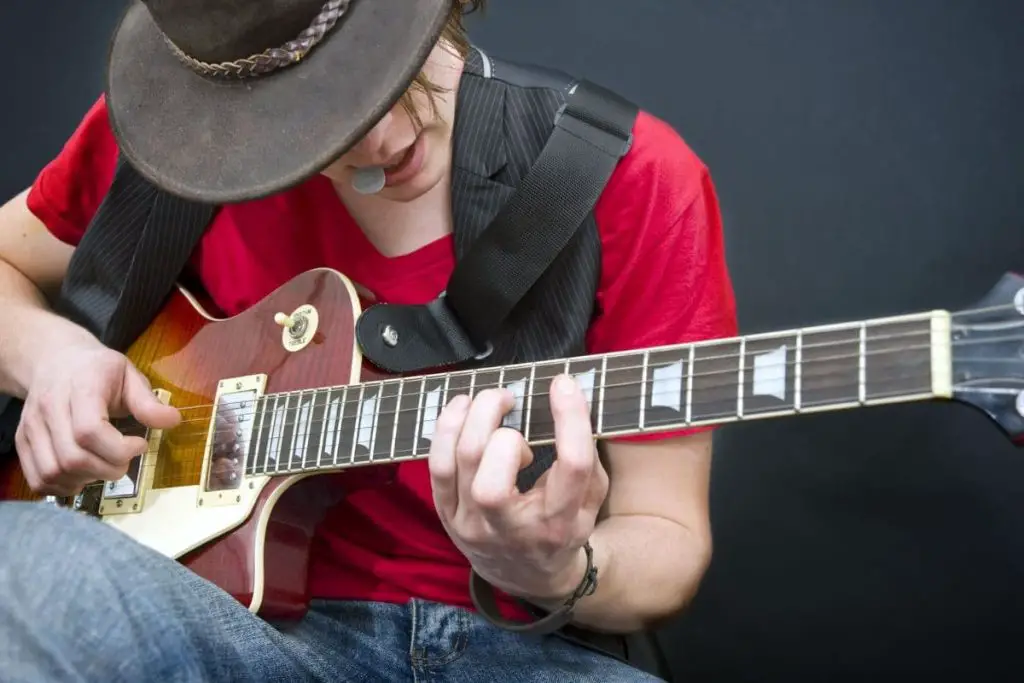 1. Ensure Your Guitar Has Two Pins To Secure the Strap
Not all guitars are created equal, and if you want to stand and play, you need to be able to secure your guitar with a strap.
Some guitars have two guitar strap pins, while others only have one or maybe even none. Having two pins is ideal, as it makes installing a strap much easier. If your guitar only has one, or no pins, don't stress too much; all is not lost.
It might seem scary to install your own strap pins, but it isn't difficult.
Most guitars will have two pins, though, usually at the heel and neck of the guitar. If you have two strap pins installed on your guitar, you simply have to hook your strap on them, and you are ready to go.
However, if you only have one pin, then you have three options. The pin would usually be at the guitar's heel, leaving you to make a plan at the neck end.
For a guitar with only one pin, your options are:
Take a piece of lace material, pull it through the pinhole on the strap and tie it around the neck of your guitar. Make sure to tie the lace behind the zero frets so it doesn't get in your way when playing.
You can get a special strap that has hooks on the ends. You clip one hook under the guitar's body, and the other goes in the soundhole. This is not the most secure option, and your guitar will be off balance, so you will have to ensure that you have a good hold on it while playing.
Your final and best option is to install a pin at the neck of your guitar. You can do it yourself or take your guitar to your local guitar shop to have it done.
If you have a guitar with no strap pins, you can use the special strap with the hooks or have strap hooks installed.
2. Invest in a New Strap
One of the reasons why your guitar keeps coming loose from the strap is that your strap might be old and worn out. The pins can easily slip out if the strap holes have become too big from wear and tear.
The best solution is to buy a new strap and remember that electric guitars need thicker straps because of their weight. 
You can get this Ernie Ball Polypro Guitar Strap (available on Amazon.com), which you can adjust in length and is super comfortable and durable. It has stylish black leather ends and comes in various colors for you to choose from.
If you are still worried that your strap will come loose, you can invest in this D'Addario Accessories Locking Guitar Strap (available on Amazon.com). The length of the strap can be adjusted, and it has a Planet Waves patented Planet Lock system installed, which fits most guitars. It will lock the strap in place, ensuring that it never comes loose unless you release it. The best part is that the locking system will work with your existing pins, so you don't have to change them.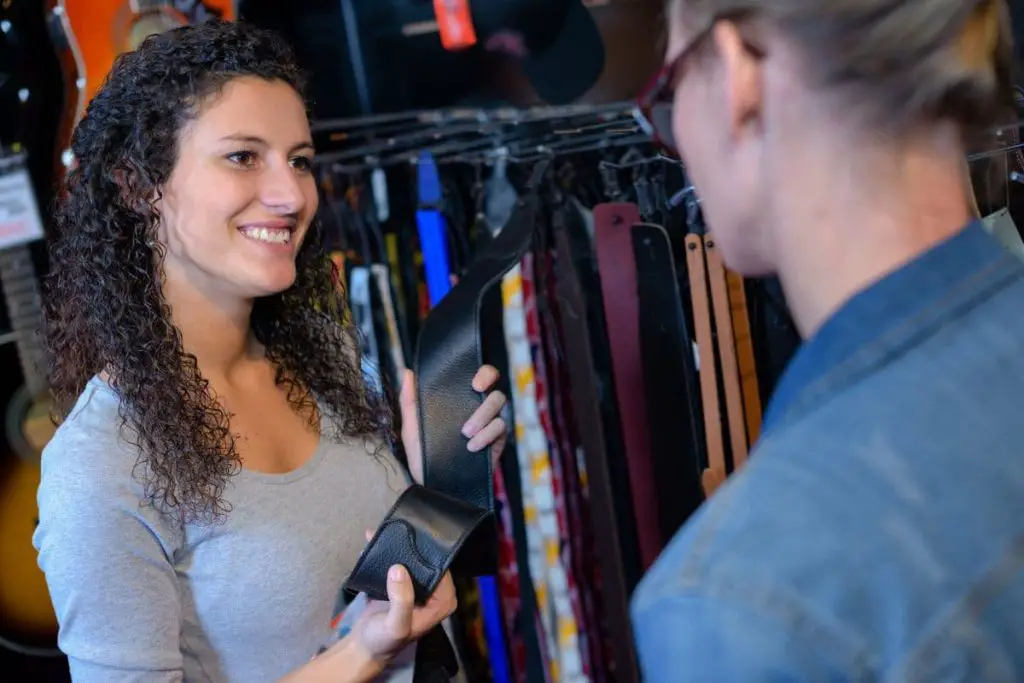 3. You Need Bigger Pins
It is possible that your strap is perfectly fine, and your pins keep coming loose from your guitar. The pinhole can get worn and cause the pin to fall out when you pull on it.
If this is the problem, you can invest in bigger pins so that they can fit securely into the pinholes, or you can drill a new pinhole that is tighter so that your pin does not keep falling out. You can even use a screw as a pin.
Installing a new pin is easy, but if you don't want to take a chance by doing it yourself, you can take it to your local guitar shop to have it done by a professional.
Here is an interesting and informative YouTube video showing how to install a strap button:
4. Strap Locks Work Perfectly To Keep Your Strap in Place
There are a variety of strap locks available, which is probably the best way to ensure that your strap never falls off of your guitar.
You get strap locks that work with your existing pins and ones which require you to remove your pins and install a locking mechanism. To use these strap locks, you have to remove the strap pins on your guitar and screw the new pins in place.
Ensure that the pins fit tightly in the holes so they don't come loose. Once the new lock pin is installed, you hook your strap over it and then lock it into place with the other part of the strap lock. When using these strap locks, you will never have to worry about your guitar strap coming loose again.
You can get these Schaller S Locks Guitar Strap Locks and Buttons (available on Amazon.com), which will work perfectly to secure your strap to your guitar. These strap locks will ensure that you can move around as much as you want without your strap coming loose from your guitar. They are silent and look super cool when fitted on your guitar.
If you need to use the acoustic jack as a strap pin and your strap keeps falling off, you can get this D'Addario CinchFit Acoustic Jack Lock (available from Amazon.com) to keep your strap in place. It will work on Fishman and Switchcraft style endpin jacks and has a cinch-style clamp, so it is super easy to use.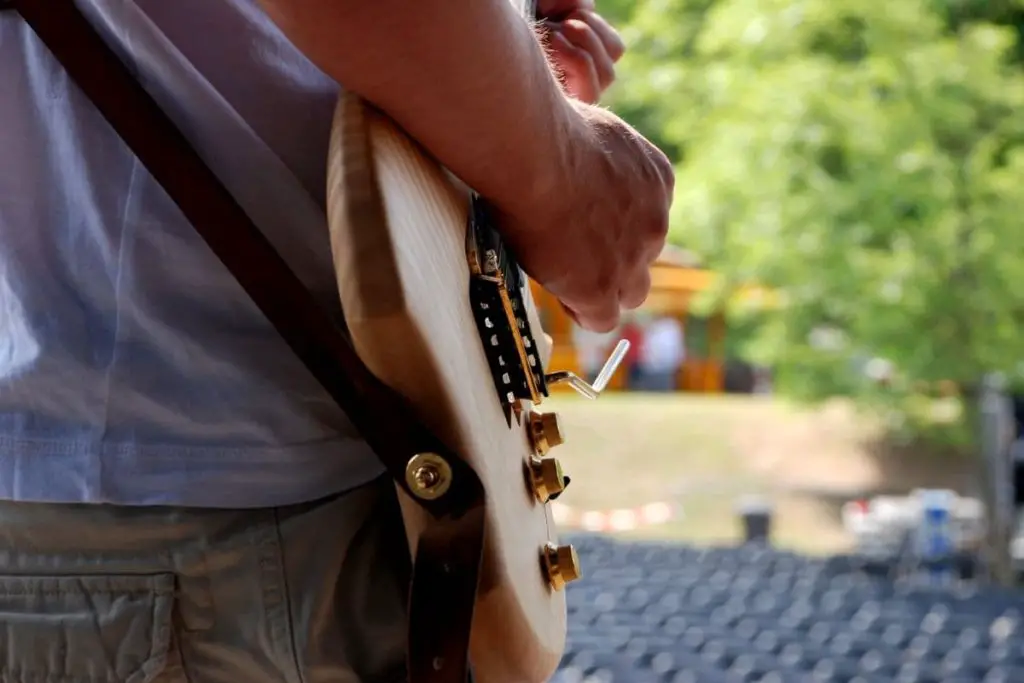 5. You Can Make Your Own Strap Locks
If you dislike strap locks or are on a budget, you can make your own locks. They might not look as sophisticated as the ones you buy, but they will do the job just the same. Your strap will be secure on your guitar, and you can rock out without worrying about dropping it.
Here are some DIY strap lock ideas:
Guitar pick strap lock.
Rubber Washer strap lock.
Bread Bag Tag strap lock.
These are cheap alternatives and work really well. You can try all three options and see which one works best for you.
Guitar Pick Strap Lock
If you have many plastic guitar picks lying around, you can modify some of them into strap locks. It is easy to do and works great. You can follow these easy steps, and before you know it, your strap will be secured in place:
Drill a hole through the center of the pick. Make sure it is big enough to fit around the pin tightly.
Cut an opening from the hole to the bottom of the pick. This will help with flexibility so that you can push the lock into place.
Carefully push the lock over the pin to secure your strap into place. Some guitar picks are made from hard plastic, so adding too much pressure can break them.
This might not be a popular method, but it will work and look fantastic if you do it right.
Rubber Gasket Strap Lock
You can buy rubber strap locks online or from your local guitar shop, but the rubber washers that you find on some bottles might work even better.
If you enjoy the occasional Grolsch beer, you would have seen the red gasket at the top of the bottle. These gaskets make pretty reliable strap locks, and you 
get to enjoy a beer too. If, on the other hand, you don't drink, you can purchase these gaskets separately.
You can buy these Grolsch Gaskets Silicon Rubber Swing Top Bottle Seals (available on Amazon.com) to use as strap locks. They are durable and make perfect strap locks. Your straps will stay in place, and you can rock out confidently.
Bread Bag Tag Strap Lock
We all eat bread, so don't throw away the plastic clip the next time you buy a loaf. They will work the same as the pick strap lock; only you won't have to cut them. You just have to clip the bread tag over your strap, and it will hold it in place.
These tags aren't as durable as rubber washers, so if you plan to put your strap on and take it off a lot, you might have to replace them often, so start collecting your bread bag tags and keep them somewhere safe.
If for some reason you don't eat bread, or maybe prefer baking your own. You can get these MT Products Disposable White Plastic Bread Clips (available on Amazon.com) to use as strap locks. They will keep your guitar straps safely in place, and since there are 100 of them, you will never run out.
6. Guitar Gummy Will Keep Your Guitar Strap in Place
Having addressed the issue of your guitar strap coming loose from your guitar, we now have to look at a way to ensure that your strap stays securely on your shoulder. Nobody wants their guitar strap to slip and fall off during a performance. It can be both embarrassing and costly.
A simple solution is to purchase Guitar Gummy Non-Slip Grip Strip Pad (available on Amazon.com). It is a silicone strip designed to prevent your guitar strap from falling off.
The strip will stick to straps made from nylon, leather, fabric, synthetics, suede, and vinyl and can be cut to fit thinner straps. It is super easy to use as you just have to peel it off and stick it to the bottom side of your guitar strap. This is a super easy solution, and nobody will even be able to see that you are using it.
7. Good Quality Straps Are More Reliable
Thin straps are more likely to fall off your shoulder than thick straps, so if possible, invest in a wide strap. Thick straps also work better for electric guitars as they are heavier than acoustic guitars.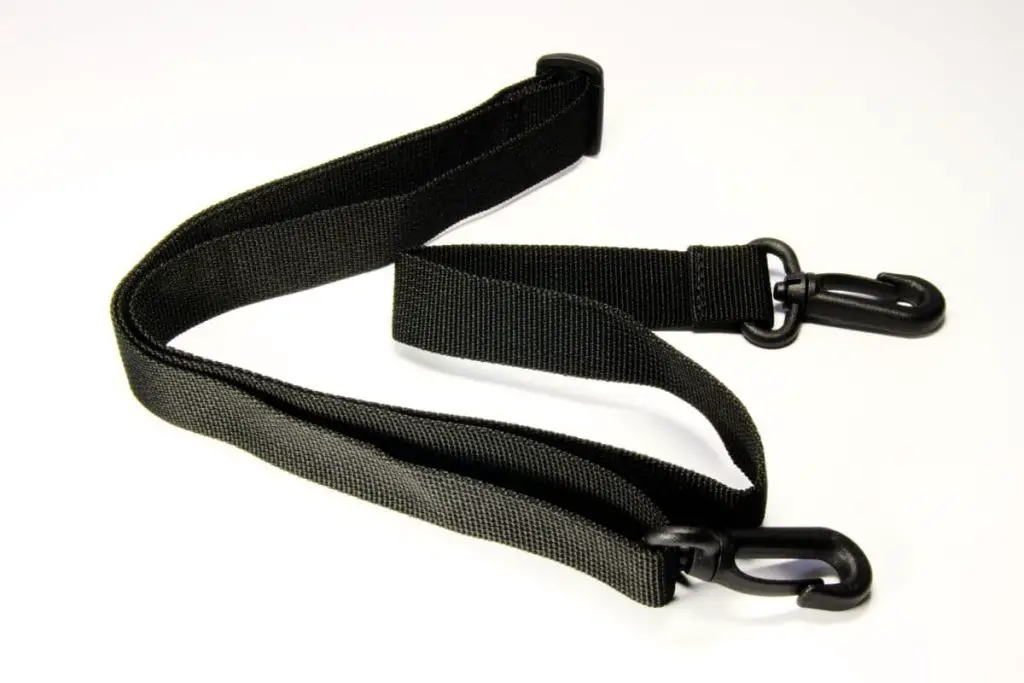 There are many guitar straps made from different materials on the market, so it might be challenging to find the right one. Guitar straps can be made from any material, but these are the most popular:
Leather
Neoprene
Cotton
Nylon
Suede
Polyester
To help you figure out which strap is the best for your needs, I have compiled a short list that includes the best strap (in my opinion) made from each of these materials.
Leather Guitar Straps Look Amazing
If you are looking for a leather strap, you can't go wrong with the Fender Broken-In Leather Guitar Strap (available on Amazon.com). It is 2.5" wide and will rest comfortably on your shoulder. It has a stylish look that is not too over the top, and you can easily use any of the above strap locks to secure it onto your guitar.
Neoprene Guitar Straps Are Comfortable
A super popular guitar strap, and for a good reason, is the KLIQ AirCell Guitar Strap (available on Amazon.com). It is made from neoprene and AirCell technology, making it extremely comfortable. The 3" shoulder pad will fit securely onto your shoulder, and it helps to distribute your guitar's weight evenly. This strap has a Limited Lifetime Warranty and looks really cool too.
Cotton Guitar Straps Are Popular
Cotton straps are comfortable and tend to be more affordable too. You can get this BestSounds Guitar Strap (available on Amazon.com) which is 2" wide and made from double thick, soft cotton.  The ends are made from leather which means they are durable, and you even get strap locks with the strap, so you don't have to worry about buying them separately. 
Suede Guitar Straps Make a Statement
Guitar straps made from suede aren't as popular and maybe a bit more pricey sometimes, but they might just be the most comfortable straps you get. This P Perri's Leathers Guitar Strap (available on Amazon.com) is 2.5' wide and super soft.
It can be adjusted in length and is non-slip, so you don't have to worry about it falling off your shoulder. It is the perfect strap for heavier guitars and is available in various colors. Investing in one of these straps will help you stand out from the crowd.
Polyester Guitar Straps Are Affordable
Polyester straps are affordable and a popular choice for beginners. You can get this Fender Monogrammed Guitar Strap (available on Amazon.com) which is adjustable and will fit anybody, from a child to a full-grown adult.
It has a padded polyester backing for extra comfort and leather ends which will help your strap stay securely in place on your guitar pins.
Nylon Guitar Straps Are Perfect for Lightweight Guitars
Nylon guitar straps can be found at most guitar shops and will secure your guitar in place. They are affordable but usually not thicker than two inches wide. They are perfect for lightweight guitars.
Fender is well known in the music industry, and you can get this Fender Nylon Guitar Strap (available on Amazon.com), which looks fantastic, especially if you are playing some heavy rock music on stage. It has reinforced leather ends and is adjustable in length and lightweight.
8. Weights Will Stop Your Strap From Sliding Off
Maybe you have tried everything you can think of, and your strap is still sliding off your shoulder when rocking out. If so, you can add some weights to your strap or guitar to keep it in place.
Any weights will do as long as they are not too bulky and don't get in the way. You can hook them onto the ends of your strap on each side or place them in your guitar cavities. 
It is crucial to ensure that the weight of your guitar is balanced, so don't just add the weights randomly and ensure that the weights have an insulated coating, or they could interfere with your electronics.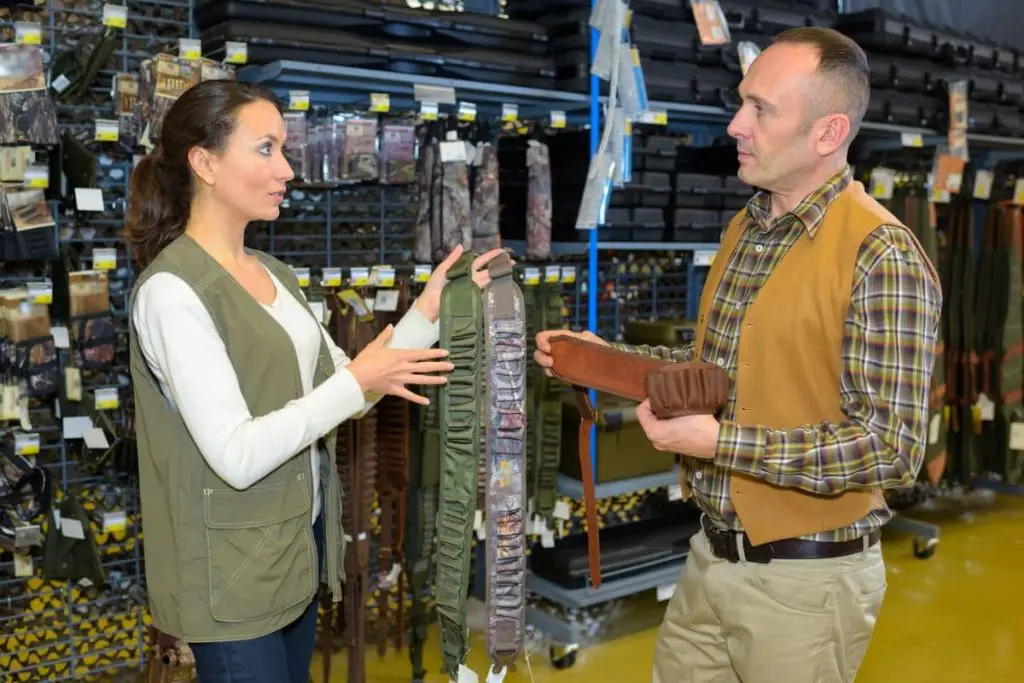 Final Thoughts
A guitar strap that keeps falling off can be irritating and even mess up your whole gig. Nobody wants that! So, if you are battling with your guitar strap, one of these tips will surely help!
Remember that straps can wear out over time and that you might need a new one. If that doesn't solve your problem, you can buy some guitar locks or even make your own. Bigger pins might also help keep your strap in place, and a thicker strap is much less likely to slip off your shoulder.