Unlike an amplifier on an electric guitar, it isn't as easy to make an acoustic guitar louder. However, there are various ways you can increase the volume you generate when you strum on your acoustic guitar, including purchasing strings that are more conducive to loud, projecting sound. 
The loudest acoustic guitar strings you can buy are the D'Addario Coated Acoustic Guitar Strings because they are made with phosphor bronze, which makes for a deep, projecting tone.  
The rest of this article discusses the best loud guitar strings. If you're ready to make some noise, keep reading! 
If you want to find out what my recommended guitar gear is, then here is what I recommend on Amazon: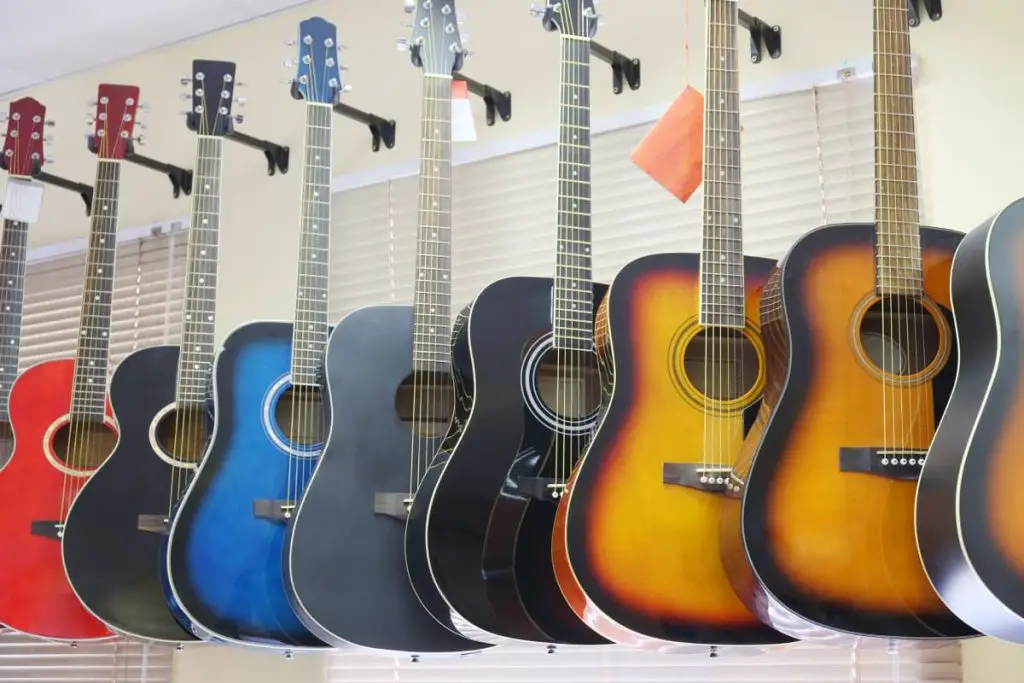 Many guitarists claim that phosphor bronze guitar strings are the loudest, which is precisely what these strings are. They offer a balance of volume and comfortable playability, so you'll be able to strum loudly without hurting your fingers too badly. 
These strings have a deep, projecting tone that outperforms many of their competitors. 
Additionally, the XT line of strings has an extended lifespan treatment that makes them break-resistant and stay in tune 131% better than strings without this treatment. 
Pros
These strings are phosphor bronze, which is known to be the loudest type of strings you can get. 
They aren't too rough on the fingers. 
They produce a bright and projecting tone.
They are packaged in corrosion-resistant packaging.
They are proudly made in the United States.
They hold their tune well.
They last four times longer than traditional strings.
The inner packaging has a resealable zip closure, which is convenient for storage.
When you purchase these strings, they come with a "players circle code" that rewards you with points you can use towards other D'Addario merchandise.
Buying these strings is more convenient because they last longer and don't need to be replaced as often.
Cons 
They are more expensive than other strings on the market. 
Some guitar players prefer uncoated strings.
There are no instructions on the package, and you may need to do some online research on the best way to use them. 
These strings have a great balance of tone and volume because they bring out an acoustic guitar's authentic sound characteristics and are loud at the same time. The warm tone you get from is unlike any other and is perfect for cozy gigs in barns or around the campfire. 
Stringjoy strings are also soft enough that they don't hurt to play, and they have component agents to protect them from corrosion, so they'll last longer. 
You can buy the strings on Amazon (with the link above) or on Stringjoy's website, where you can get a 1-pack, 3-pack, or 6-pack and arrange to have them delivered every month, every two months, or every three months.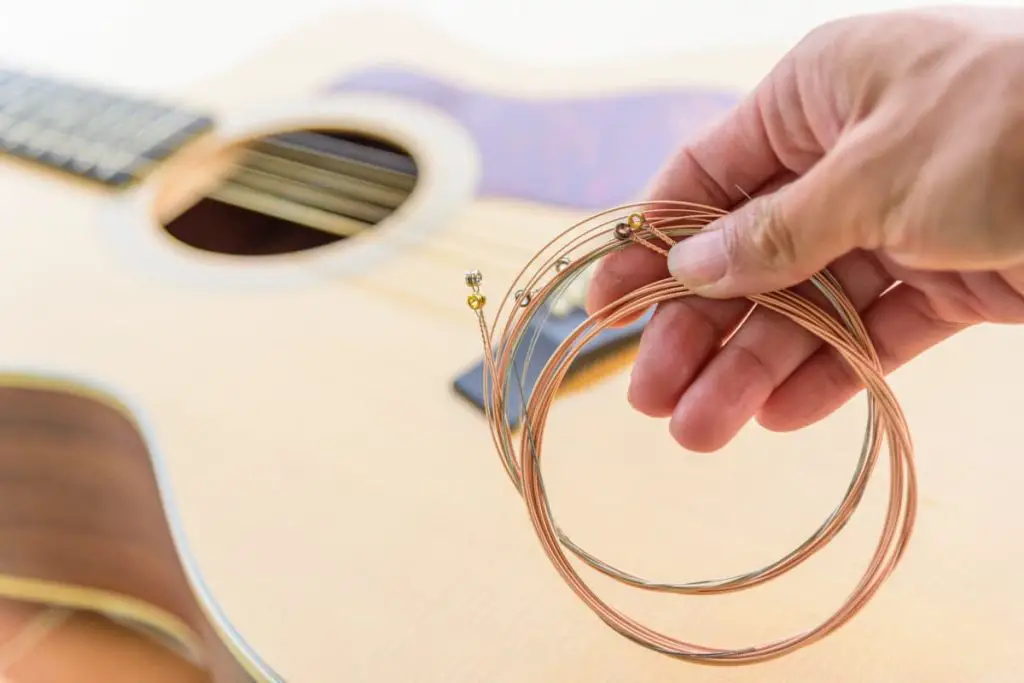 Pros
They're made with phosphor bronze, so they are capable of high volume. 
The tone is warm, authentic, crisp, and woody.  
Stringjoy's quality control is top-notch; three different people check every string. 
The strings are mathematically optimized to balance tension, making them smoother for you to play. 
Stringjoy has great customer service and a 100% money-back policy if you don't like the strings. 
The strings are made in the United States by Nashville musicians. 
They are resistant to corrosion and last longer than some competing strings. 
Cons  
Some users report that they easily fall out of tune. 
More on the expensive side. 
The Elixir strings are engineered to endure even the most intense guitar playing, so if you play frequently, these are a good choice. The phosphor bronze ensures you get the volume you want and creates a balance of rich tone and clarity. The NANOWEB coating is ultra-thin, making for a textured and "uncoated" feel, so even if you don't typically like coated strings, I recommend giving these a try. 
Furthermore, according to an Elixir Strings player survey, these strings last longer than any other brand's coated or uncoated strings. This is thanks to Elixir's patented coating technology, which prevents common corrosion and other damage.  
Pros
They're made with phosphor bronze, so volume won't be a problem. 
They create a full, rich-bodied tone with high-end clarity. 
The thin coating gives the strings the same feel as uncoated guitar strings.
The patented coating technology greatly extends the lifespan. 
The coating also protects against dirt, sweat, oils, and humidity.
They are available in a single set or a three-pack.
You'll experience reduced finger squeak with these strings.
They hold a tune well.
Cons 
Some users report that the strings break easily. 
They're on the more expensive side. 
Another great long-lasting and voluminous acoustic guitar string option is the Ernie Ball Paradigm guitar strings. They are made with high-strength steel for superior tensile strength and are reinforced with a wrap around the ball-end twist. They also hold a tune extremely well, so you won't constantly have to retune your guitar.  
Furthermore, the Everlast nano treatment and plasma-enhanced wire add additional protection, so the strings are protected from corrosion and debris. 
Pros 
These strings are reinforced and treated so they will last a long time. 
The tone is warm and woody.
The patented wrap around the ball-end twist prevents the strings from snapping.
Made of phosphor bronze.
They make cheap guitars sound better.
They're made in the United States.
Cons 
Some believe these strings are overhyped.
They are more expensive than most uncoated strings.
These strings won't automatically make you sound like Eric Clapton, but it's a start, and they come at a great price! They are engineered to resist corrosion and to bring out a full and balanced tone from your guitar, with serious projection power. 
They are great for fingerpicking and playing with a pick, so however you like to play, your guitar will sound great. They also work well with any genre, including rock, bluegrass, folk, blues, and country. 
Eric Clapton uses these strings in the studio and for live performances, and if they're good enough for him, they'll probably work for you too!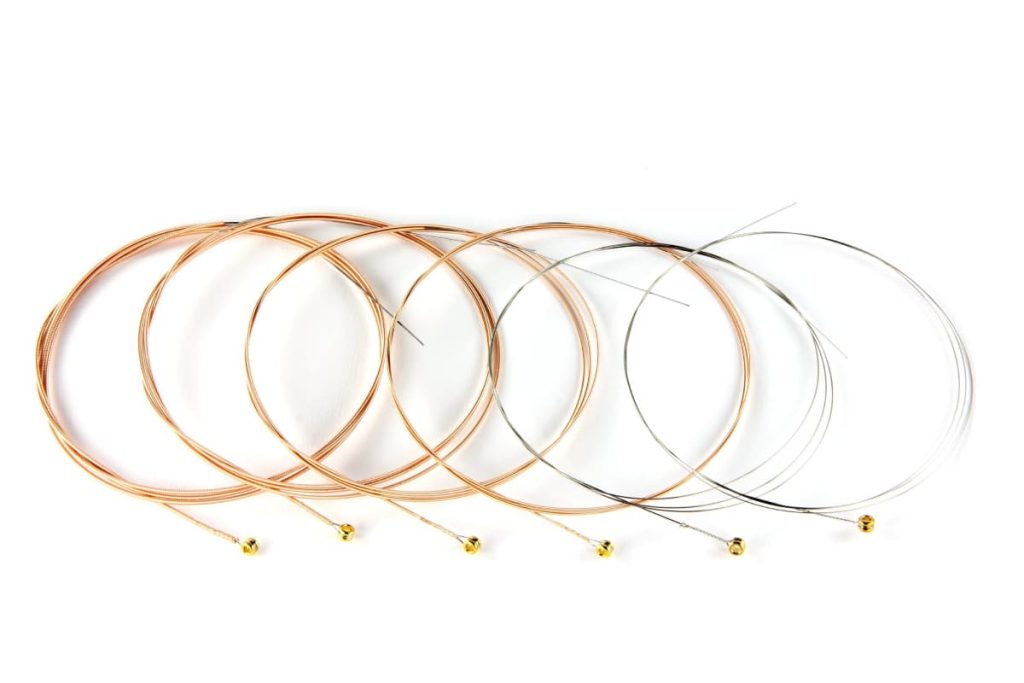 Pros
These strings are more affordable than other options on the market.
They are relatively long-lasting, especially for their price point.
The tune is full and balanced.
You can finger pick or pick-play these strings and have great results either way.
They're compatible with many genres.
Eric Clapton endorses them.
Cons
The strings can be uncomfortable to play, especially for beginners who haven't developed calluses yet.
Some users report more noticeable buzzing and finger squeaking.
The strings can feel a little stiff, especially when they are new.
The sound of these strings is not as bright as others on this list.
If you want your guitar to be loud but not so loud that people can't hear your beautiful voice as you sing along, these are the strings for you! 
They are designed with solo artists and singer-songwriters in mind, so the warm tone of the strings complements the vocals. However, the phosphor bronze material ensures that you can still reach the volumes you need. 
These strings work best on Fender guitars, but you can use them with any guitar you'd like. They are also more affordable than other alternatives on this list, so they're a good choice if you're on a tighter budget. 
Pros 
These strings are made with phosphor bronze.
The warm tone complements the vocals.
They are manufactured with singer-songwriters in mind.
The strings are less expensive than other competing strings.
Fender is a trusted brand.
Cons 
These strings can break somewhat easily.
They don't hold a tune as well as some other alternatives.
John Pearse Guitar Strings sound just as good when you put them on as they do a week or two later, which is unusual. Typically, guitar strings need some time and use before they start sounding the best they can, but this is not the case with these strings, which sound great right away.  
These guitar strings create a balanced, warm tone, and the phosphor bronze helps enhance their volume. They make for great bass, clean mids, and clear highs. 
These strings sound great in any genre, but especially folk. After all, John Pearse himself was a folk guitarist, so his strings are manufactured to sound great playing music similar to his.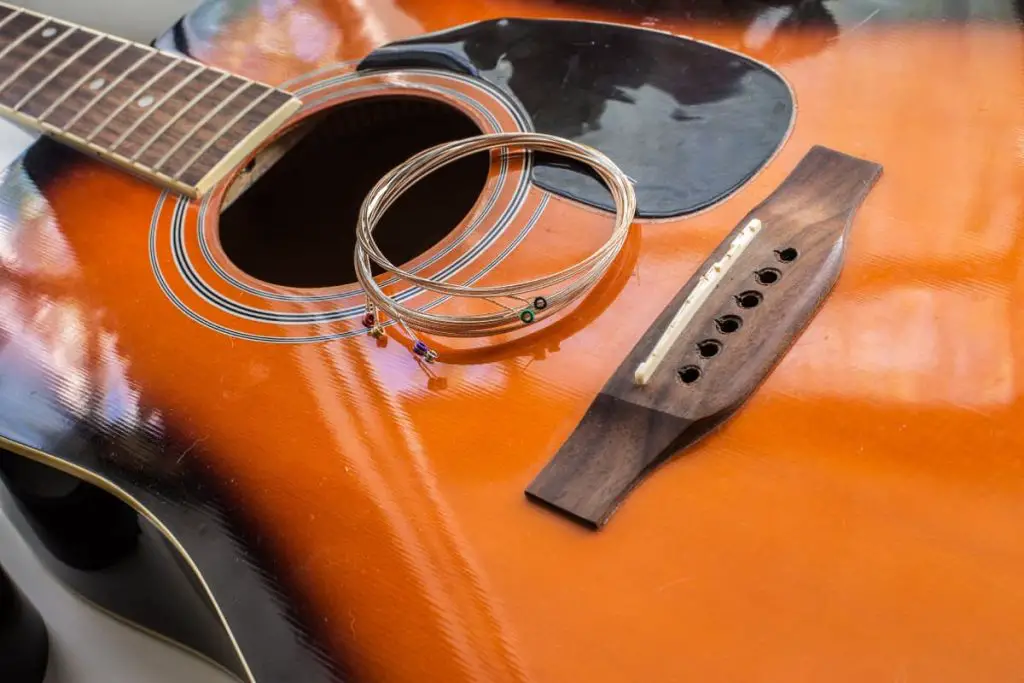 Pros 
The strings sound good immediately without the need to "warm them up".
They're made of phosphor bronze.
They are great for folk guitarists.
The tone is clear and engaging.
They are long-lasting.
The brand has a good reputation for high quality strings.
Cons 
These strings are pretty simple; there are no frills, innovations, or patented technology to enhance them.
MUSCELL Handmade guitar strings are coated to provide a clean and bright tone that lasts longer and projects more. You'll experience fewer unwanted overtones with these but they will provide you with more clarity. 
They are made with a hexagonal steel core and a phosphor bronze winding, and come in six different gauges, so you can find the right fit for you and your guitar. 
These strings also use six different bead colors, which help you identify the individual strings and make your guitar look more attractive. 
Some guitarists believe that handmade strings sound more natural and bright than machine-made strings. If that's the case, then these strings are a great choice. 
Pros
They're homemade, which some believe leads to a better tone. 
They're made with phosphor bronze. 
The ends of the strings have six different bead colors, which makes them look nicer and more easily identifiable. 
You'll have fewer unwanted overtones. 
They come at an affordable price. 
Cons 
They're uncoated, which some guitarists don't like. 
They don't last as long as some of the competing brands' strings. 
Some users report that the strings can sound buzzy. 
They don't tend to hold their tune well. 
Havendi Guitar Strings are made by a small start-up in Germany, but they are fast becoming a household name when it comes to guitar strings. Since 2020, they have had more than 10,000 customers globally, and this is probably due to their great customer service, as they have a 100% refund policy if you are dissatisfied with your purchase. 
These strings are durable and rust proof because of the high-quality finishing. They are also great for beginners because they are comfortable and easy to play, thanks to smoothFORCE technology. Some strings are extremely rough on the fingertips, especially for beginners who aren't used to this kind of pressure and tension on their fingers, but these strings are as smooth as butter. 
They are made with phosphor bronze, so they can be quite loud if you want them to be. They are also reasonably priced.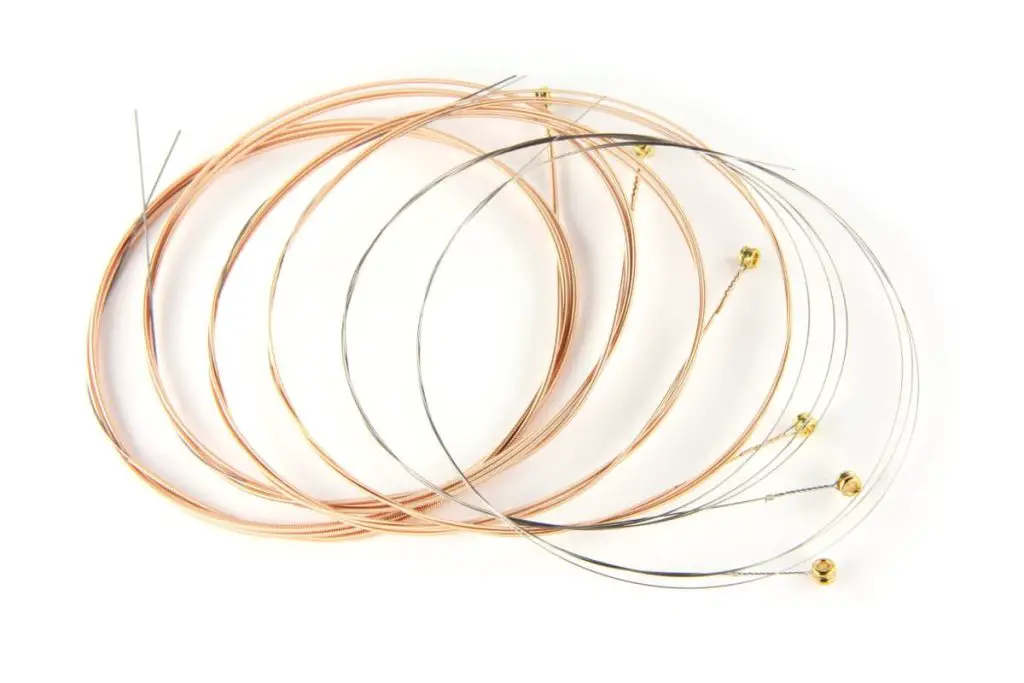 Pros
They're made with phosphor bronze. 
HAVENDI provides excellent customer service and a 100% refund policy, so you can give these strings a try without risking a complete loss. 
The high-quality finishing prevents rust. 
SmoothFORCE technology makes these strings smooth and buttery-feeling, which is great for beginners. 
They're affordable.
Cons 
The strings snap easily, especially if you are a frequent player. 
There aren't many gauge options.
Other Ways To Increase Acoustic Guitar Volume
Getting the right guitar strings isn't the only way to enhance the volume of an acoustic guitar. There are other methods you can employ and choices you can make to get your guitar to sound louder. 
Here are my suggestions: 
Play harder. If you put more pressure on the strings, they will sound louder. Therefore, if your acoustic guitar doesn't seem loud enough to you, one way to rectify the situation is to strum with more vigor. Unfortunately, this method could get tiresome quickly, and you could hurt your fingers. 
Use a clip-on microphone. Using technology to enhance your guitar's volume is one of the most effective ways to accomplish your goal. I recommend the HEIMU Clip-On Instrument Condenser Microphone from Amazon. This microphone is great for amplification and sounds more natural than other microphones and pickups. Additionally, it comes with adapters for wireless systems. 
If you have a semi-electric guitar, check the pickup. Some acoustic guitars have pickups, and these guitars are called semi-electrics. The pickup element allows you to connect your guitar to an amplifier, which you can use to make it louder. If you don't already have a semi-electric, you can hire a professional to install a pickup on your regular acoustic guitar.  
Use a thick guitar pick. Heavier picks can create more volume, making you more comfortable playing more vigorously. This AUGSHY Guitar Picks Sampler from Amazon has thin, medium, and thick picks. The picks are made with high-quality materials that are comfortable for you to hold and are long-lasting. 
Play your guitar closer to the bridge. Playing close to the bridge creates a tone similar to an electric guitar and amplifies the sound. It can be difficult to get used to playing this way, but once you do, you can reap the benefits and increase your volume. 
Play in a smaller venue. If none of these methods or strings make your acoustic guitar loud enough, you may have to focus on playing in smaller venues for a while. It is much easier to fill a small room up with sound from an acoustic guitar than it is to fill a large room. 
Another way to make an acoustic guitar sound louder is to ensure that you're using the right kind of guitar. Some acoustic guitar shapes, materials, and bracing styles are more conducive to producing higher volume than others. 
If playing loudly is your priority, I recommend looking into purchasing a new guitar that is suited for this purpose. Jumbo and Advanced Jumbo guitars have large bodies that can produce a lot of volume. Additionally, archtop and resonator guitars can get loud. 
Resonator guitars were designed so they could be heard in large venues in the 1920s, before today's amplification technology made this an easier feat. They amplify sound by using spun metal cones. As a result, they often have metal bodies, which makes for a unique look.
Archtop guitars also come from the 1920s before amplification technology. They have a floating bridge setup and are large-bodied, making it possible to generate a lot of noise. 
Here are some features to look for if you're shopping for a loud acoustic guitar: 
Stiff back
Flexible soundboard 
Carbon fiber material 
Sitka spruce body 
You can make an acoustic guitar loud enough to fill large venues with the right guitar, strings, and playing methods. 
Final Thoughts 
Making your acoustic guitar louder for a gig, large venue, or simply because you like being loud isn't always an easy task. 
Luckily, there are some great guitar strings on the market, especially the D'Addario Coated Acoustic Guitar Strings, which can help you reach the volume you want. If this isn't enough, you can use other methods to increase the sound, such as playing harder, using a microphone, using a thicker guitar pick, or playing closer to the bridge.
If you want to find out what my recommended guitar gear is, then here is what I recommend on Amazon:
Related Posts: